I have tried to find the best 5 spot welders, which are trending on the market. After extensive research I found that most of the spot welders are made by Sunkko, which is a popular brand name to manufacture a wide range of welding machines and equipment.
Spot welding is also known as resistance spot welding. It comes in the electric resistance welding category, which is good to weld sheet metal products. The welding process involves the use of copper alloy electrodes for the welding current concentration.
The top 5 spot welders are:
---
SUNKKO 737G+ Battery Spot Welder, Pulse Welding Machine for 18650 14500 Lithium Batteries
Sunkko 737G+ has been selected as the top spot welder in the best 5 spot welder reviews because it is a great pulse welding machine for 18650, 14500 lithium batteries. Please make sure that the battery pack works with Nickel strips 0.35mm.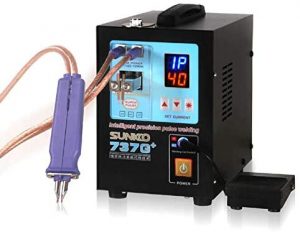 This spot welder by Sunkko has a good design and impressive welding function, which are great for improving the efficiency of battery pack welding process.
Additionally, you can perform welding process using various welding methods, which are optional. And there is no welding limitation of the battery pack size.
SUNKKO 737G+ Battery Spot Welder also comes with soldering function that lets you perform soldering in 300° C temperature with great efficiency.
Good thing about this Sunkko welding machine is the intelligent and integrated temperature sensor and great cooling capability. So the temperature sensor and cooling system work according to the internal temperature of the machine.
This Sunkko brand spot welder gives great welding performance because it can handle welding thickness range from 0.03 to 0.3 mm while the nickel welding thickness is from 0.03 to 0.15 mm.
Performance Improvement Possibility
There are three ways to improve the performance if you use this spot welder:
Welding current adjustment (one to eight level optional)
By adjusting pulse quantity from 2 to 18 (optional)
By pressure knob (pressure can be regulated between copper welding rods and nickel strip)
---
Handhold YaeCCC 737G Battery Spot Welder with Pulse & Current Display 1.5 kw
The second spot welder I have selected, which is Handhold YaeCCC 737G spot welder. This welding machine comes with various advantages and features for the smooth spot welding. The YaeCCC battery spot welder is made keeping precision current in mind. Yes, you will be able to use micro-chip for controlling precision current for the greater welding accuracy.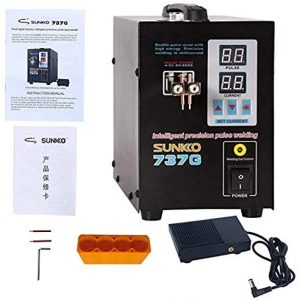 On the other hand, you are able to select various level of current in the 0.5 pulse increment. This way, you will be able to weld more conveniently, safely and efficiently.
Handhold YaeCCC 737G Battery Spot Welder lets you weld nickel strip within 0.05 to 0.2 mm thickness because it comes with dual pulse mode selection and 0 to 99 level current setting.
And, please don't forget the combination of fixed welding head and foot switch, which are great for various welding requirements.
The purchase of Handhold YaeCCC 737G Battery Spot Welder gives you various welding tools also. These tools are 1 x foot pedal, 1 x hex wrench, 4 x welding pins, 2 x fuses and the instruction manual.
---
SUNKKO 709A Battery Spot Welder Battery Welding Soldering Machine
Since Sunkko is the leading brand name for manufacturing impressive spot welders, so the third spot welder I have selected, which is also from Sunkko. The good thing about this spot welding machine is the affordability and performance. Yes, it is an affordable spot welder that can be purchased in the price range of $250.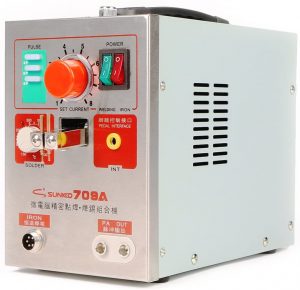 On the other hand, this is a feature-rich spot welding machine. It comes with various impressive features that directly contribute to its overall welding performance. The Sunkko 709A welder gives you the option of pulse selection from 2 to 18, which is undoubtedly huge. Other impressive features are: foot pedal, temperature regulation, pressure regulated head, current regulator and fixed/spot welding capabilities.
Since you are able to increase the welding current so it is very useful for the desired welding performance at the time of welding thicker nickel strip.
Pros
Foot pedal is included while most spot welders don't come with a foot pedal so it is really a plus point.
Great pulse quantity adjustment feature for the spot welding ease.
Cons
The welding pen is of poor quality.
Some users complains that the welding performance is not consistent.
---
Sunkko 737U Battery Spot Welder for 18650 Lithium Batteries
Sunkko 737U is another affordable welding machine that can be purchased in less than $200 price range. Such low price seems very good and very competitive price on the market where you can rarely find a performance oriented welder in the $200 price range.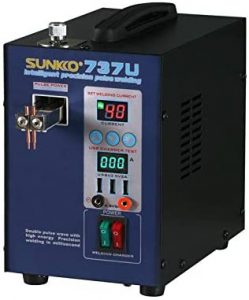 This Sunkko brand spot welder is very suitable for welding 0.05 to 0.2 mm nickel plated steel strips. And since it can also be operated on the battery power so it greatly works with 18650 and 14500 lithium rechargeable batteries.
In case, you are using this spot welder then one plus point arises here is the welding performance improvement. By adjusting the welding current level, you can surely improve the welding performance. However, you have to adjust the current level according to your requirement and use the same setting for the repetitive welding tasks.
Please make sure that this spot welding machine is not made for welding materials such as copper and aluminum. It is a good welder for welding pure nickel, nickel plated steel, and nickel plated iron, iron and other alloys.
---
SUNKKO 737G+ 4.3KW High Power Spot Welding Machine
SUNKKO 737G+ spot welder comes in two versions in regards to voltage. You can choose either 110V or 220V version as per your welding requirements. Although most of the Sunkko welding machines are of high power without any doubts, this 737G+ model comes with 4.3KW high power for the smooth spot welding performance. Since this spot welder comes from the popular Sunkko brand so there shouldn't be any doubts to the features it carries and the performance it delivers.
This welding machine can handle maximum 0.4mm welding thickness. The remote spot welding pen can handle maximum welding thickness of 0.2 mm.
I already mentioned that it is a feature-rich welding machine and so it comes with impressive features. These welding machine features directly contribute to the overall welding performance. When we talk of the welding capability, it delivers impressive welding current from 120A to 1200A. This machine can either be operated automatically or manually because it also comes with a food pedal control capability.
With the purchase of this SUNKKO 737G+ spot welder, you also get all the required welding tools. These welding tools are 1 x spot welding pen, 1 x wired foot switch, 2 pairs of spot welding pin, 1 x wrench, 2 x fuse, 1 x electric grinding machine, 1 x battery fixture and nickel tape sample of 50 pieces.
---
Most of the spot welders mentioned above come from Sunkko because this is a famous brand name that makes impressive spot welder. In the best 5 spot welders, 4 welders are from Sunkko and 1 is from other brand.
Our main purpose of writing the best 5 spot welder reviews is to direct you towards the popular spot welding machines, which are trending on the market. The information, reviews and other facts are collected from various internet websites including welding forums, blogs, social networking websites and shopping websites.