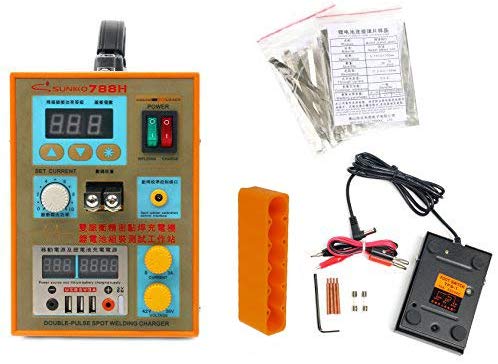 Sunkko 788H-USB spot welder has gotten good popularity on various shopping websites so this product is recommendable here. Please read SUNKKO S788H-USB Precision Pulse Spot Welder Review. If you are looking to buy a spot welder to weld metal sheets and to fulfill other welding requirements, you can check this Sunkko brand spot welder as well.
This Sunkko welder comes with all the welding accessories. These accessories are mentioned below.
The Package Includes:
788H-USB spot welder
2 x 20A fuse
Foot switch
Battery clamp
Welding rod
Spanner
Power cable
Nickel plated strips (50 pieces)
Pure nickel strips (50 pieces)
The above mentioned components are included with the purchase. You can see all the required components are available in the list. The list has all such as nickel strips, spanner, power cable, battery clamp, fuses and many others.
Features
Precision parameter setting
Two current settings
Three micro USB ports for tablets, smartphones and power-bank
Special pressure adjustment feature, which is good to weld different type of metals
Voltage indicator
All the main features are listed above. This Sunkko 788H spot welder has awesome features, which are often found in highly priced spot welders on the market. Sunkko spot welder comes with two welding current settings, three micro USB ports (to connect with smartphones, tablets and power-bank) and pressure adjustment feature.
Pros
Sunko spot welder can also be used for jewelry repairs. But this spot welder is only helpful if you are making jewelry out of pure nickel in strips, no thicker than 0.3-mm.
It comes included with various nickel plated strips
The spot welding comes with various setting options so it gives a room to explore the welding possibilities.
These are the above mentioned capabilities, which I found browsing various shopping websites, forums and blogs. Yes, it comes with various setting options to weld at your desired setting levels. It also comes included with various nickel plated strips and many accessories to use with the machine.
Cons
You can't use a welding pen with this unit.
There is no proper instruction regarding the lithium battery current settings for welding nickel.
It comes with 20AMP circuit breaker, which doesn't work good. You need a 30AMP circuit breaker for the reliable welding performance.
For many users the USB option doesn't work at all as per the reviews posted on Amazon.
Many users complain that this is a low quality spot welder even you adjust to the highest AMPs.
For some users, the spot welder doesn't deliver the required power to create a strong joint.
Sunkko spot welder has received various negative reviews related to its welding capability. It doesn't work on lower settings. It works on the highest settings but the result is not appreciable for many customers at Amazon.
This spot welder comes with too many disadvantages so the unit didn't impress me. It has many drawbacks that are bigger in their nature. Since these drawbacks will directly affect the performance of this battery spot welder, this is not a performance oriented spot welder for me. It comes with many problems related to current settings, overall welding capability, connectivity issues and many others.
Conclusion
To conclude, Sunkko S788H spot welder has too many disadvantages and few advantages. Honestly, I will not buy a product, which has negatives more than positives. The welder lacks capability and proper connectivity. Since welding capability, settings and connectivity are the major parts of a machine, good welding performance can't be expected. I hope SUNKKO S788H-USB Precision Pulse Spot Welder Review was helpful to you.
Video – Basic Spot Welding