We are specifically going to consider the SUNKKO pulse spot welder that is one of the excellent battery welders with amazing features. The battery welder will be a suitable choice when dealing with 0.05 to 0.2 mm nickel-plated strips. This is relatively a smart welder regarding the convenience and the power requirements that it will be supported with.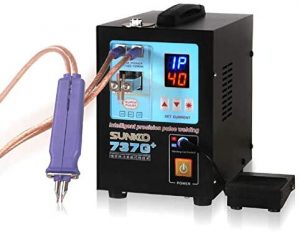 The battery welder can be used in spot welding, battery testing, and also for the battery charging! All these are the practical applications of the battery welder. The battery welder is controlled by pushing the welding head up or monitoring by the foot pedal. This is a simple way to control the battery welder. The operational features are easy to operate, and it will be a great asset for home welding.
Battery welder is very cheap! It is inexpensive, and therefore it won't break your bank. Most clients at the platforms such as Amazon are happy with the great welder. It accords convenience and will still deliver perfect welds suitable for their application! It's a lovely choice welder that you can depend on for small scale welding!
Many companies are manufacturing battery welders. You need to be keen when choosing one! Not all the battery welders are the best, and it will be essential to pick one with accessible operational features, durable and also sturdy! All these are the basics that will lead you to select a smart welder!