Please read YESWELDER Welding Machine Review. YesWelder ARC-125DS welding machine has impressive capabilities to deliver impressive welding results. This welding machine is based on IGBT soft switch technology that has good Arc stability. The 20-125 amperage is suitable to weld thin work-piece.
The dual-voltage IGBT welder has the capability of automatic compensation for voltage fluctuation, over load protection and over current protection. Which means, the unit comes with good safety feature to offer you worry-free welding performance.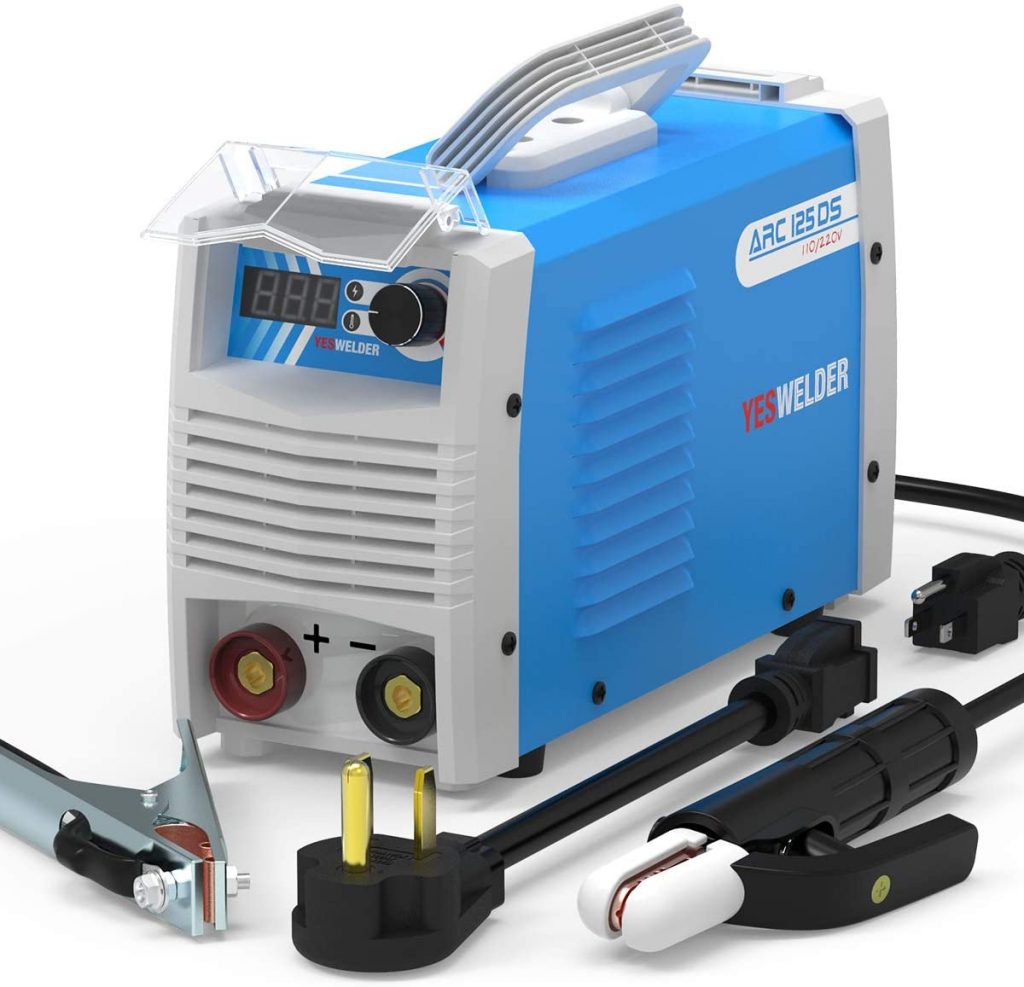 Moreover, the YesWelder ARC 125A welding machine is a lightweight and portable unit that provides a reliable welding experience for professionals or learners. It has hot-start and arc-force features for easy arc starting and convenient welding.
YesWelder is one of the top brands to produce feature-full welding machines. Most of the welders from this manufacturer are highly popular because they are capable to perform better than other similar welders on the market.
IGBT Inverter Technology
IGBT inverter technology is also available in this YesWelder unit, which is good for the smooth welding performance. The 125AMP unit is a dual-voltage welder for the welding flexibility and high workload. Additionally, this is a multi-function unit for Stick and MMA welding processes.
The IGBT inverter welder is also a feature-rich unit because it features Hot Start option, dual-voltage and an optional lift TIG welding functionality. Additionally, who doesn't want a portable welder? This portable welder is lightweight in a compact size.
Welding Rod Acceptance
110V – the unit can impressively weld 7018, 6010, 6011 rod with maximum electrode size 3/32 inch.
220V – this input voltage is good for welding rod 7018, 6010,6011 with 1/8-inch max electrode size.
Since YesWelder 125AMP welder is a dual-voltage unit, so it gives us a wider scope to weld thicker material. These materials can have thickness up to 1/8-inch. Such welding machines are good for higher welding workload.
Features of ARC-125DS Welding Machine
220V to 110V adapter for power supply
10 feet electrode holder & clamp, 10 feet ground clamp & cable
Plate thickness range: 1/4-inch @ 110V, 1/2-inch @ 220V for mild steel
Amperage: 110V for 110AMP and 220V for 125AMP output welding current
Optional Lift TIG (the TIG lift torch is not included with the package, you may have to buy it separately)
Considering the features, the YesWelder portable welder is full with useful features. With the help of these features, one can perform welding impressively and flexibly. You can see the plate thickness range, which is up to 1/2-inch material thickness using the dual voltage capability. It also comes included with all the accessories such as an electrode holder, a ground clamp and many others.
Pros
Advanced features and good build quality
Sturdy metal case
Good customer service team
The HotStart feature works impressively.
It can weld 7018 rod very well.
Lightweight and portable unit
A low-price welder – it was made keeping quality and performance in mind.
The unit has been tested on 2500-watt generator and it worked well.
Cons
Few customers say that they got a defective welder. However, upon a complaint, the defective unit was replaced with a new one.
According to some reviews at Amazon, the unit is not good for high welding workload. It is good for hobbyist, learners and lighter welding works.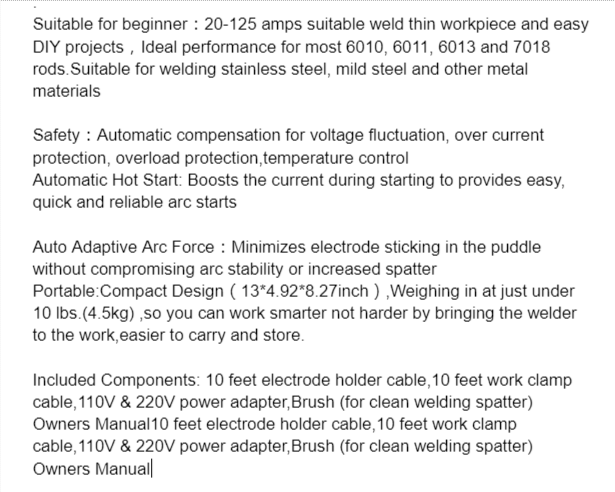 Conclusion – ARC-125DS
As per YESWELDER Welding Machine Review, it is good for the money you pay to acquire it. It comes with too many advanced features including HotStart, IGBT inverter technology, required components etc. According to many reviews at Amazon.com, this is a good welder for a wide range of welding applications. Additionally, the price is very good. It seems impossible to get a similar welder in the same price range.
Apart from the good welding capabilities and too many useful features, the customer service is also very quick to respond to your queries. Sine it features an IGBT soft-switch technology, so it is capable to offer excellent arc stability. In addition, the lightweight profile, sturdy case and portability are also the good points in this YesWelder 125AMP welder. I hope YESWELDER Welding Machine Review was helpful to you.
Video – YESWELDER MMIG 205 DS Welder Review