If you are looking to buy an affordable MIG welder, you can check this Hitbox 220V MIG welder. The low-price welder lets you perform gas or gasless welding. This is a good welder for welding with stainless steel and iron. It allows flux cored wire, which can be used at the time of performing MIG welding.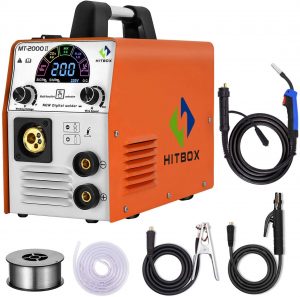 This is a 2-in-1 welding machine for MIG and Arc welding processes. This welder allows easy operation for beginners and professional alike. The welder comes included with all the required accessories for the trouble-free welding.
The highlights of HITBOX MIG Welder are:
IGBT inverter technology
AV220 input voltage
50/60Hz frequency
50A to 180A output current @ 60% duty cycle.
Dimensions are 350 x 200 x 350 mm
0.8mm wire diameter
0.8mm applicable thickness.
The Hitbox welder is a little low-quality welder because it is manufactured in China. However, it works for the price you pay. This is an affordable welder for beginners that comes with impressive features. Read more…