Since it comes from the popular Lincoln brand, so there shouldn't be any doubts to the performance or quality. LINCOLN ELECTRIC CO K2697-1 Easy MIG 140 Wire Feed Welder handles various materials such as mild steel, aluminum and stainless steel and various others.
This is a portable welder that runs on one-phase electricity. It delivers rated output of 90A @ 19.5VDC. It has 20% duty cycle. The output range is from 30 to 140A DC. The accepted wire size is from 0.025-inche to 0.30-inche.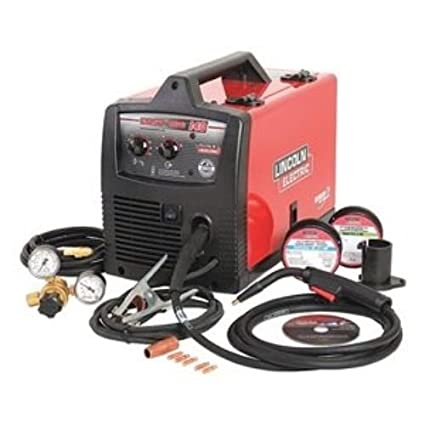 FAQs
What supplies do I need to use this welder?
Answer – Lincoln MIG 140 comes with all the supplies and parts, which you need for the welding. The package also includes 2 X spools of wire. For the MIG welding process, you will need 0.25 wire, which requires the use of C-25 gas bottle, which you can easily buy from your local welding supply store.
Can it perform flux core welding?
Answer – Yes, you can use flux core wire for the welding. In fact, the welder comes with both flux core wire and solid wire.
Can I plug into a standard 120V outlet?
Answer – Yes, it plugs into a 120V outlet without any doubts.
Does it have an 110V plug or 220v plug?
Answer – It has an 110V plug only.
Does it weld Aluminum?
Answer – Yes. However, you will need the right shielding gas and filler wire, which can be purchased from Lincoln or from the local store.
Can Lincoln MIG 140 weld 3/8 mild steel?
Answer – The shortest answer is no. The maximum thickness of mild steel, it can handle is 5/16-inch.
Pros
It delivers impressive performance for small to medium level welding works.
The unit is good for both experienced as well as learners.
The welder delivers good result for flux core and solid wires.
Portability
It can weld aluminum as well.
Cons
Some customers are not impressive with the 120V performance; they say it is only good for small welding tasks.
The user manual lacks proper instruction, which is a little difficult for the newbies.
Some customers say that the duty cycle is not good for the rated gage.
Conclusion
This is an average-performance unit. It has received mixed opinions from its existing customers. Therefore, the Lincoln MIG 140 is an average-performance welder, which is good for small to medium level welding tasks. The unit can handle various metals but you can't expect to use it in a high production environment.
If you are looking to buy a branded, portable and affordable welder, you can buy it. However, you have to use it for small welding tasks. It is good for the handy use. Since it is a portable welder, you can easily carry it anywhere you go.
Video – Top 10 Mistakes Beginner TIG Welders Make