Lincoln Electric K2278-1 Handy Core welder is very suitable for home repairs and hobbyist. It can weld 1/8-inch mild steel. The unit is perfect for most of the household and garage related welding stuffs.
This is a performance-oriented Lincoln Electric welder which comes included with all the accessories you require for the successful welding. The package includes all the accessories such as work lead, cable assembly, gun, work clamp and input power cable. All these are already attached at the factory so you don't have to give the time for installing them.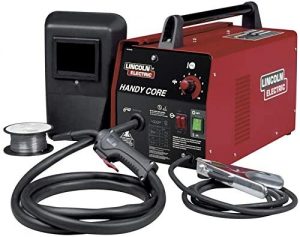 Features: Lincoln Electric K2278-1 Handy Core
Output amperage: 35-88A
1/8-inch mild steel welding thickness
It can plug into household 115V, 20A outlet
Easy to use and portable
Cold contractor safety feature is good to keep welding wire cold until gun trigger is pressed.
FAQs
Q. What is the maximum welding current (amperage) output?
A. The amperage range is between 35A to 88A. However, the recommended amperage is 70A at 20% duty cycle.
Q. Can I weld aluminum?
A. The straight answer is no. You need to convert it to gas or use CO2 to weld aluminum.
Q. What is the size of wire, this Lincoln machine uses?
A. It uses .30 or .35.
Q. Does this machine come with wire?
A. Yes, you get a small role. It is somewhere 25 feet.
Q. Can it weld on DC power?
A. Yes, it comes with the capability to weld on DC current.
Q. What is the thickness capacity to weld mild steel?
A. The welder has the capacity of welding 1/8-inch mild steel.
Q. Is this a MIG welder?
A. No, this is a flux cored wire welder. It doesn't take gas. To use it as a MIG welder, you have to make some changes. It comes with a gas regulator.
Q. What components come with this welder?
A. All the required components are already attached with the welder to save your time. Apart from the welding machine, you also get wire and goggles.
Q. What size spool will fit into the machine?
A. The machine can accept a 10LB spool of flux core wire.
Pros
Lightweight, portable and a handy machine
Good for thin gauge materials
A beginner's friendly machine
The Lincoln portable welder is very easy to use.
A low price and high quality welder
Cons
This machine is not made to handle larger welding projects. If you weld large materials, please get a 220V MIG welder.
It comes with a low quality clamp.
Conclusion
To conclude, Lincoln Electric K2278-1 is a lightweight portable welder, which is good for small to medium level welding works. The unit is also very easy to use, can be a great machine for the beginners as well.
The Lincoln portable welder is good from all aspects such as price, portability, ease-of-use and beginner friendliness. In case, you get any problems with the machine, you have one year of warranty in your hand. The warranty is for parts and labor.
As mentioned above, this Lincoln Electric welder is not suitable for larger welding projects. In case, you need to handle large welding projects, you may have to go with a 220V welder. This is a single-phase 110V machine for small to medium welding works.
Video – interesting welding video, welding thin wall square tube with stick welder