If you aim to buy a portable and affordable welder, please check Forney Easy Weld 261. This is a feature-rich and performance-oriented welding machine, which gives you the greatest portability. Because it weighs just 19 LBs so I can say a lightweight welding machine that is capable for difficult welding situations.
Since it is a lightweight welder, so you can easily carry it. Whether you want to use it for DIY, repair, maintenance, metal fabrication and hobbyist project, this can be the perfect welding machine for you.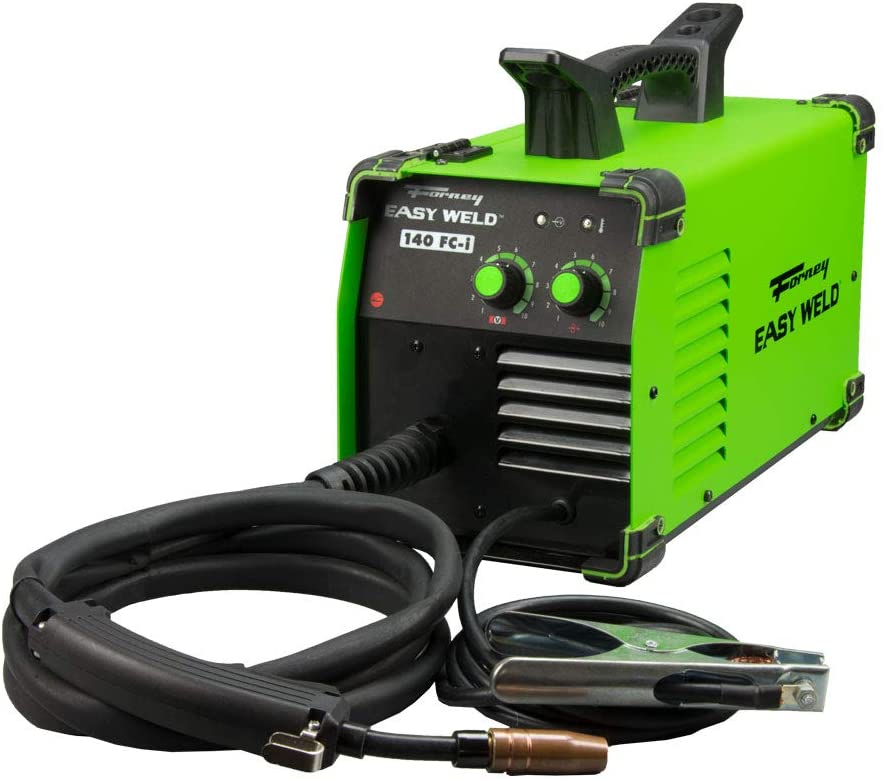 On the other hand, Forney Easy Weld 261 is a solid welder because it has all metal case so you can easily use it for day-to-day welding tasks. And it is big enough to handle from two to ten pound rolls of wire.
Forney Easy Weld 261, 140 FC-i MIG Welder
Forney Easy Weld 261, 140 FC-i MIG Welder is an easy-to-use MIG welder that accepts 0.30 flux core wire. It features infinite voltage and wire-feed speed control to give you the best welding experience. This Forney welder can be the best tool for entry level welders also.
Amazingly, the Forney easy-weld welding machine gives you up to 140-amp output so that you can easily weld mild steel up to 1/4 inches in plate.
With the purchase of this powerful Forney brand welder, you also get the needed accessories such as 8-inch MIG gun, 8-inch ground clamp, the handle comes with torch wrap and it also comes with a 20A-15A adapter. This Forney brand welder is protected with a 1-year warranty for the peace of mind.
The Flux-Core Welder
Forney Easy Weld 140 is an impressive flux core welder, which is very suitable for the beginners. You can use this welder for various applications such as DIY, maintenance, farm, fabrication and automotive as well.
Highlights
The Forney Flux Core Welder comes with a metal case, which is perfect for 2 to 10-pound wire rolls.
Built-in cable wrap
This is a 19 LBs lightweight-machine, which is very easy to transport.
The unit is perfect for a wide range of materials including stainless steel, mild steel, cast iron, aluminum etc.
It requires 120V input power and delivers 140A output current.
Pros
Forney Easy Weld 140 is the best unit for the novice welders.
The flux core welder can handle metals such as stainless steel, mild steel, aluminum and cast iron.
Easy setup
Great for light to medium scale welding
Portable and lightweight welder
Good for both thick and thin welding
Cons
This welder is not for the heavy welding tasks.
Single voltage – 120V input power.
According to some customers, it doesn't come with the wire rolls, you may have to buy separately.
Conclusion
To conclude, Forney Easy Weld 261 is a popular among its users. This is a highly rated unit on the Amazon website. The Forney welder is perfect for novice users because it is very easy to setup and it runs on single 120V input power.
It has good duty-cycle capability for the smooth and longer hours welding. Additionally, this is a lightweight and portable welder, which is good to carry, store etc.
The price is very good. You may not find a similar quality welder in the same price range. Since this is a Forney product, no doubts to the quality and the performance. The Forney Easy Weld 261 is highly recommended from my side if you aim to perform light to medium range welding.
Video – How to Weld! Basic welding techniques. Using Forney Easy Weld Welder