Miller Electric is a big name for numerous performance-oriented welding machines. If you are looking to buy a good welder from the popular Miller brand, please Miller Welder Review. Each welding machine is selected after extensive research to help you buy the qualitative machine at the best price.
Before I list all the top 5 Miller welders, please check this welding safety guide (pdf), which is from Miller's official website, i.e., MillerWelds.com. Since welding process is risky to our health, so we should adopt welding safety guide to protect ourselves. The safety tips are focused on protecting our head and face from welding arch, avoid heat stress and safeguard our hand & body also.
The best 5 welding machines from Miller are:
Miller 907693 Welder
I have selected the Miller 907693 welder as the number one welding machine in the Miller welder review because it comes with various benefits. The first thing is the ease-of-use. Yes, this Miller multi-process welding machine is very easy to use and it comes with versatile TIG, MIG and Stick welding functionalities. Since Miller 907693 gives all the welding functionalities such as MIG, TIG and Stick so it greatly helps build skills.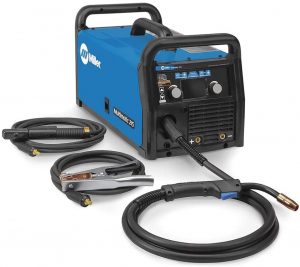 Other important feature of this welding machine is the color screen that features auto-set Elite. Amazingly, it gives you the option to weld up to 3/8-inch mild steel. This multi-process welder by Miller comes in a portable size, which is 20.5 x 11.25 x 12.5 inches.
Pros
Easy to use
Multiple welding processes such as MIG, TIG and Stick
Good customer support with live person
Color screen with auto-set Elite feature
Cons
MIG welding process is not as good as expected compared to other two welding process such as TIG and stick.
Miller TIG Welder, Maxstar 161 STL Series, 120/240VAC
This Miller Maxstar 161 welder is also very popular because of the performance it delivers and features it comes with. Maxstar is also a performance-oriented welding machine that has numerous welding features for the ease of weld and it deserves a second spot in the Miller welder review.
Apart from the good welding performance, it also comes with great safety features that include overload protection (thermal based), auto-line power management technology.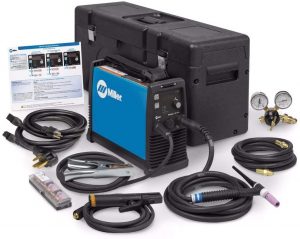 Another good thing about this Maxstar 161 model is the rotation feature. Yes, it is rotatable at 45° angle. It also comes with a fan on-demand feature that provides great welding ease.
You can use this welding machine for various welding purposes. Because it supports a wide range of applications such as heavy fabrication, precision fabrication, aerospace, pipe and tube fabrication, aluminum ship repair and anodized aluminum fabrication.
Pros
Supports all welding processes such as TIG, MIG and Stick.
It can greatly handle aluminum material thickness from 0.020 to 3/16 inch.
Highly rated and positively reviewed on the popular Amazon.com shopping website.
It comes with all the required accessories.
Cons
No foot pedal is included (you may have to buy it separately)
Miller Stick Welder, Thunderbolt Series, 10-1/2 H
This Thunderbolt Series welding machine from Miller is a portable unit that also delivers good welding performance. It comes with a host of features, which are good for great welding assistance. Amazingly, this portable welding machine is based on Hot Start technology and infinite amperage control for the ease of welding. This Miller Thunderbolt Series welding machine has impressive features and functionalities, so it deserves its place in the best Miller welder review.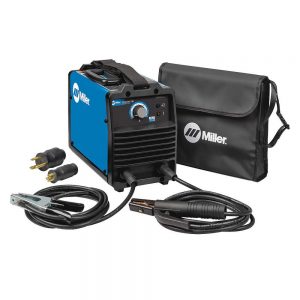 This Thunderbolt stick welder can be used at various places such as garages, farms, job shops, light fabrication, maintenance and ship building. It has great duty cycle of 30%.
Pros
Since it is a stick welder so it is naturally portable and lighter than MIG and TIG welders.
The machine is generator friendly, which means it can be operated via the generator current as well.
Cons
It requires good amount of AMPs to be operated comfortably.
The cable and clamp are not of good quality.
Miller Electric 120/240VAC, 1 Phase Welder
This Miller Electric welder deserves its place in the best 5 Miller welder review. It support MIG/Flux Core welding processes. The welder requires 240-volt AC to be smoothly operated. Please don't forget the model number, which is 907614. Miller 907614 welding machine is a one-phase unit that comes with various amazing features for the smooth and easy welding performance.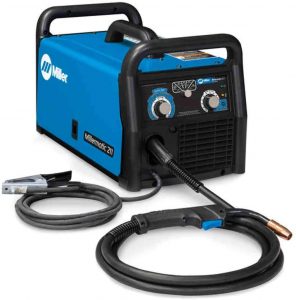 Miller Electric 907614 welder can handle various materials such as steel, aluminum and mild steel. The material thickness supported is from 24 ga. to 3/8 inches. This is a good hand-held portable welding machine, which can easily be purchased from Amazon at the best price.
It has various welding features such as auto SpoolGun detection capability, smooth-start feature, angled cast aluminum drive system, quick select drive roll, fan on-demand and thermal overload protection.
Miller 907614 comes included with various accessories such as 10 feet M10 gun, 10 feet work cable with clamp, dual gauge regulator with gas hose, sample spool of 0.030 inch, 2 x solid wire, contract tips, hook and loop cord wraps.
Millermatic 211 MIG Welder With Advanced Auto-Set And Cart 951603
If you are looking to buy a Miller welding machine with a cart, please check this Millermatic 211 MIG welder that comes with advanced auto set and cart.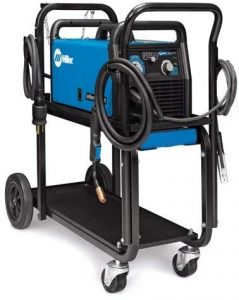 It also comes with a running gear and cylinder rack. The good thing about this Miller machine is the multi-voltage capability, yes it runs on both 120 volt and 240 volt input power. Since the Millermatic 211 welding machine uses an inverter design so it takes less power and has impressive welding capability. Impressively, it weighs up to forty percent less than other MIG welders in its category. Yes, it weighs just 38 pounds and it is capable of MIG welding up to 3/8 inch mild steel.
To get rid of the guesswork, the Millermatic welder has an advanced Auto-Set feature. This means you can set the voltage and wire feed speed without the guesswork. You just need to select the material and thickness and wire diameter and your machine is ready to weld in the Auto-Set mode. This feature is the best feature in this welding machine that should be kept in the mind if you are going to purchase it now.
Our main purpose of writing this review page on the best 5 Miller welding machines is to suggest you the best welders from the Miller brand, which are highly popular among its users. I have done extensive research using various welding forums, blogs, YouTube and reading reviews on various shopping websites.