If you are a welder and looking to buy the best arm sleeves, please check the below mentioned sleeves. These safety arm sleeves for welders have been selected keeping safety and quality in mind. All these welder's arm sleeves are from top manufacture to ensure the best quality product.
QeeLink Leather Welding Work Sleeves for Men and Women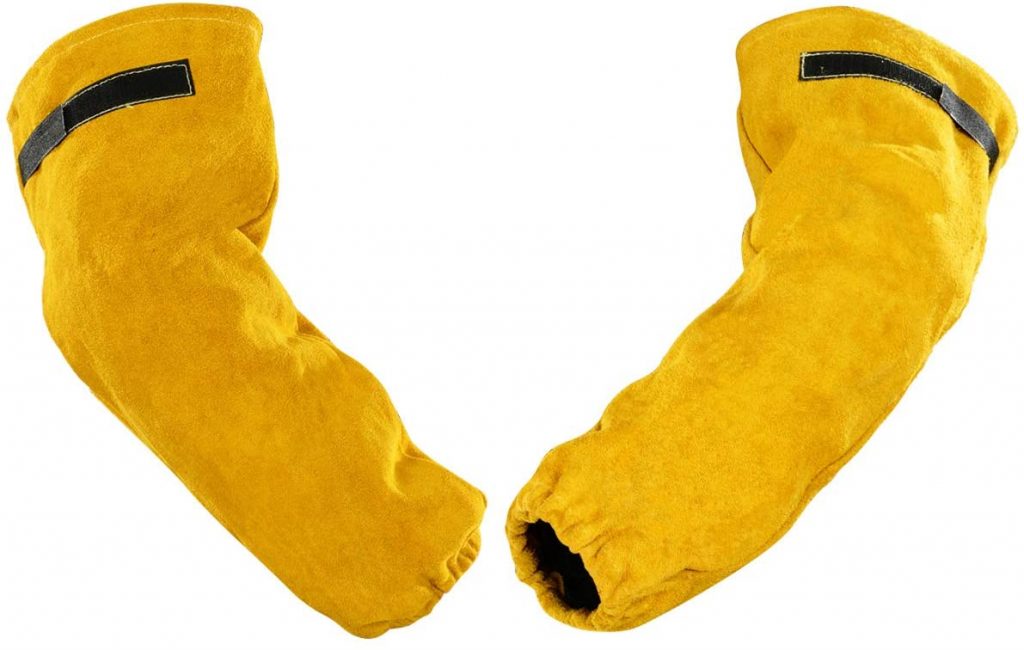 This QeeLink welder sleeve has many capabilities such as extra thickness, superior protection capability, durability, good fitting, softness and satisfaction guarantee.
The leather welding arm sleeves are flame/heat resistant because it is made of high quality split cowhide leather. Such sleeves are good to provide complete protection to your arms. Because it aptly saves your arms from welding spatter and heat.
Another capability is the extra thickness & softness. Yes, it is thicker than others because it carries a unique double-layer design to provide the required comfort to your arms. The outer layer is heat-proof, and has cotton lining inside for the comfort.
This Qeelink safety sleeve is a long lasting product. Because these sleeves are sewn with heat resistant thread. And the sleeves are made of split cowhide, which will surely last for a long time. Special attention has been paid towards quality and safety. Therefore, it is at the first position in Best Arm Safety Sleeves for Welders.
Kevlar-Sleeves Arm Protection Sleeves with Thumb Hole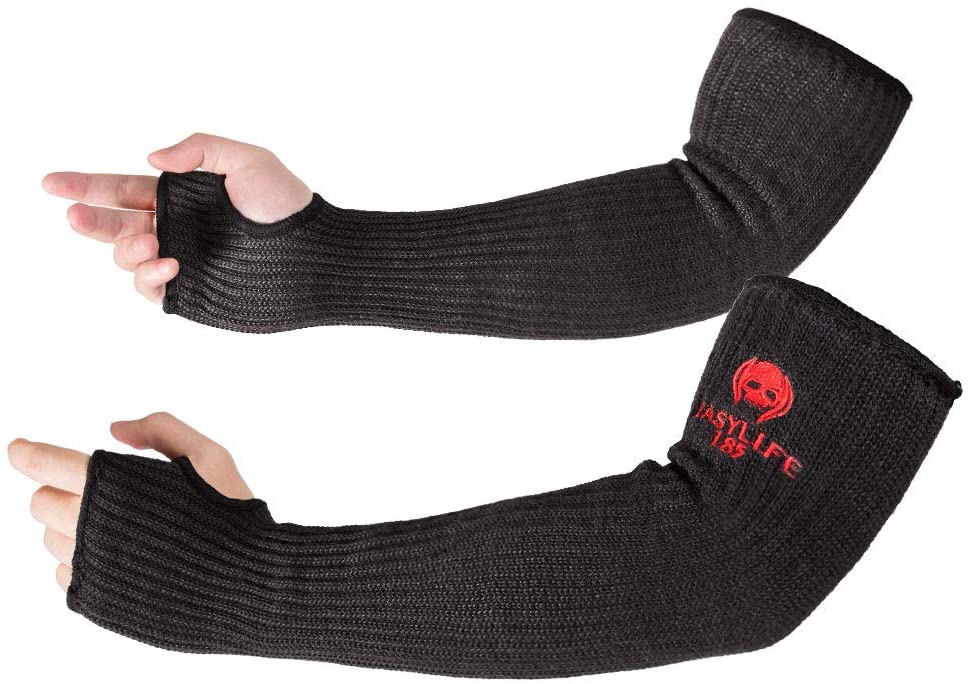 The Kevlar arm sleeves are very popular as cut resistant sleeves. They are made of the same materials, which are used to make bulletproof clothing. Glass fiber materials are also used to make these sleeves, which have cut-proof capabilities. All these materials used to make the Kevlar sleeves, are free from carcinogenic or toxic substances.
These welder and work protection arm sleeves are with double-ply protection. So, this protective layer is made of knitted, seamless construction, which is also good from the fitting point of views. It gives a snug fit of 18-inch length. This flexible size is perfect for both men and women.
The Kevlar sleeves are made of stretch fabric with thumb slot design. So, this type of design is good from arm positioning point of views. And, it provides the greatest level of comfort to the wearer.
Kevlar arm sleeves come with wider applications. Yes, it is very suitable for assembling works, conditioning manufacturing, cut protection, food service, glass handling, light heat protection and many others. It is a multi-resistant industrial cloth. It is very helpful to get rid of pet scratches and scrapes. And the sleeves are cut resistant, abrasion resistant, and heat resistant. You get rid of skin irritations also.
Kevlar Protective Arm Sleeves – Cut and Heat Resistant (22 Inches, Black)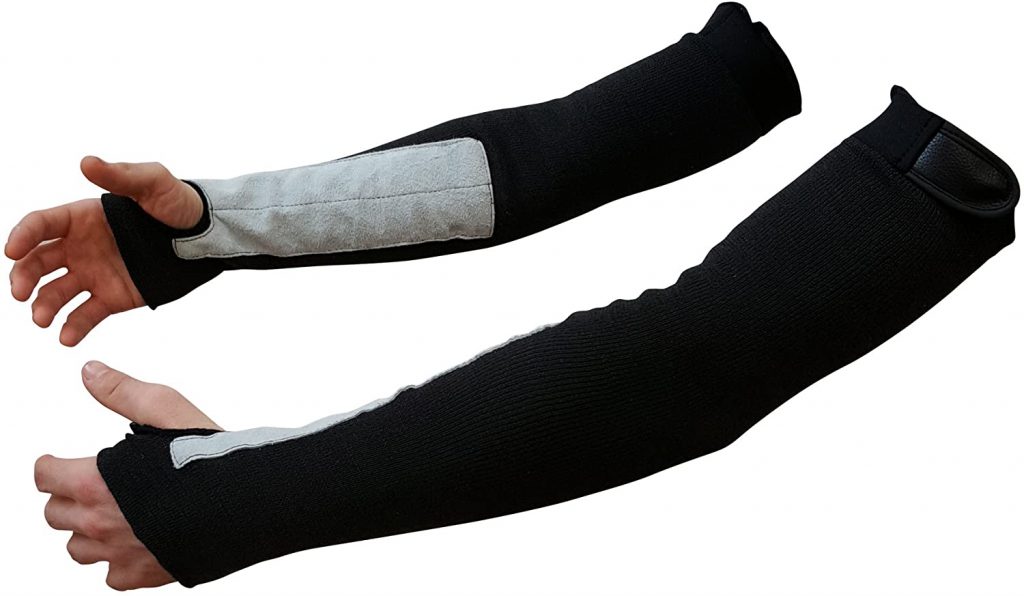 Kevlar arm sleeves are very popular on the market because they have good heat & flame protection capability. The cut-and-heat resistant sleeves are uniquely designed to protect your arms from any hazards coming from your work environment.
The length of these sleeves is 22 inches. Such long sleeves are good to provide full arm safety and extends beyond the elbow.
These sleeves feature an elastic strap on the upper side so that the sleeves will not roll down. Apart from this elastic strap, the sleeves are woven with double-ply Kevlar, which is greatly flame resistant. And they provide the required comfort at the work.
They feature leather patches for the extra safety because they protect your arms and other vulnerable area.
Arm Protection Sleeve, Cut & Burn Resistant Anti-Abrasion Safety Arm Guard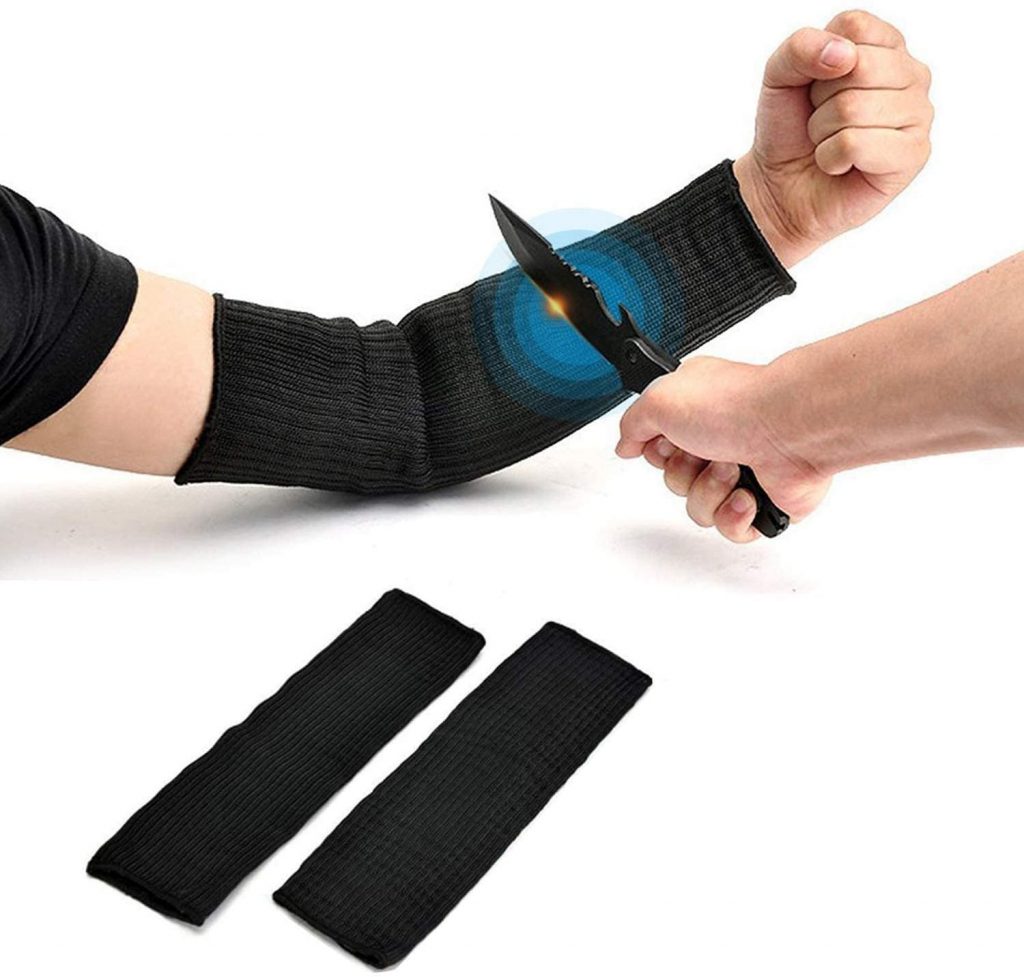 This arm protection sleeve is very useful for those people who are involved in yard work or their skin get burned on the job site, or their pets scratch their arms. This cut/burn resistant arm safety sleeve is a good way to protect your skin from burn and bleeding.
This protective arm sleeve has good applicability at many places like assembly line, food service, knife handling, heat protection, gardening and many others.
The anti-abrasion safety arm guard is made of materials such as polyester, chemical fiber and stainless steel. It comes in a length of 40-cm. You can use this arm sleeve for full arm protection to prevent bruising, skin damage and scratching.
Cut Resistant Sleeves Level 5 Protection, Arm Protection Sleeves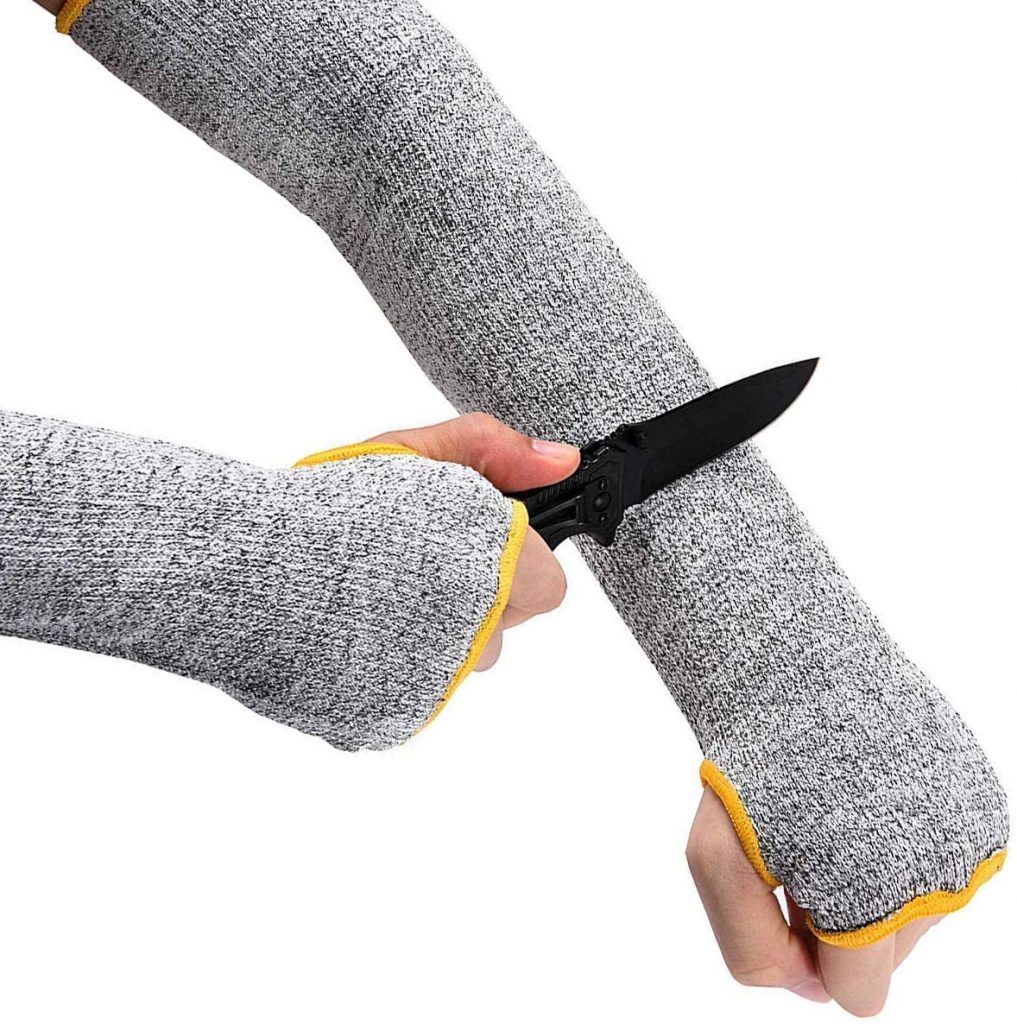 This is a good quality level 5 protection arm sleeve. It has some good characteristics such as high performance protection, flexible size, wider applications and washable capability.
The cut resistant sleeves are claimed as 30% lighter than nylon or polyester sleeves. And it is 4x stronger than leather, 15x stronger than steel.
Since this sleeve is a part of the best arm sleeves on the market, so it has some good qualities, which can't be found in normal sleeves.
Protection – well, providing protection is the main work of such sleeves and these sleeves do excellent work, in regards to the protection levels they offer. Because of their good protection capabilities, these sleeves got the highest EN388 level 5 cut resistance certification. Which means it is very helpful to prevent scratches and scrapes. It greatly protects your arms from cuts and burns. Of course, it is the best choice arm protection sleeve, which is available on the market.
Size – the sleeves are 17 inches long and 4 inches wide. They are also lightweight and stretchable sleeves that provide utmost safety and comfort to the wearer. This flexible size fits all, and is suitable for both men and women. This is the right time to protect your arm with this high quality protective sleeve.
Conclusion – Best Arm Safety Sleeves for Welders
The above mentioned arm sleeves are good to protect your arms if you are involved in any industrial works such as welding and other manufacturing works. These arm safety sleeves have good arm protection features; they are flame and heat resistant because they are made of the materials, which are very helpful to prevent burn, scratches and cut on your skins. I hope Best Arm Safety Sleeves for Welders are helpful to you.