There are a wide range of welding jackets on the market to choose from. Since our aim is to show you the best 7 leather welding jackets so we have well researched the below mentioned jackets. These jackets have received good appreciation from their users. And so, the top leather jackets are recommendable here.
The top 7 leather welding jackets are:
Black Stallion JL1030-BB Color Block Leather Welding Jacket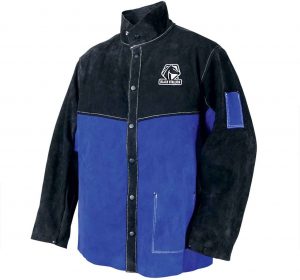 When it comes to high quality and durable welding jackets, Black Stallion is the top brand for such leather welding jackets. The manufacturer makes varieties of jackets, which are available to buy on Amazon.com and other shopping websites.
Black Stallion JL1030-BB leather welding jacket features a stand-up type collar, which has 2 snap options. On the left sleeve, it features scribe pocket, which is good to store some small tools if needed.
On the other hand, it has satin-lined shoulders and an adjustable waist snap, which make it easy to wear and provide better fitting.
This Black Stallion brand leather jacket comes in various sizes such as large, small, medium, X-large, 2X-large, 3X-large and 4X-large.
Please don't forget the model number which is JL1030. This is a popular and high quality welding jacket that features color block and royal blue split cowhide that make it stylish and modern also.
QeeLink Leather Welding Jacket for Men & Women (Flame-Resistant, Heavy Duty)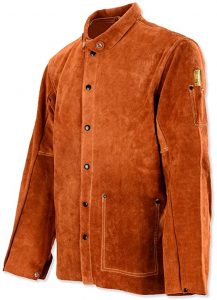 I have selected this QeeLink welding jacket, which is also a popular and good leather welding jacket for men and women. This heavy-duty jacket is very popular for good protection, durability, convenient pockets, multiple functions and adjustable neck, cuff and waist.
Complete protection — This flame-resistant leather welding jacket is a full coverage welders' wear to protect them from sparks and heat.
Four pockets for small tools storage — it features large inside and outside pockets: 2 soapstone pockets on each sleeve.
Durability — this QeeLink brand welding jacket is pretty durable. Because it is sewn with high quality thread keeping durability in the mind. Also, high quality rivets are used in those areas which are highly stressful.
Multi-function — QeeLink leather welding jacket is not only for welding, but also for many other industrial and DIY works. So this leather jacket is perfect for steel mills, manufacturing units, gas welding shops, woodworking shops and many others.
Lincoln Electric KH807L Flame-Resistant Leather Welding Jacket (Heavy Duty, Brown Color)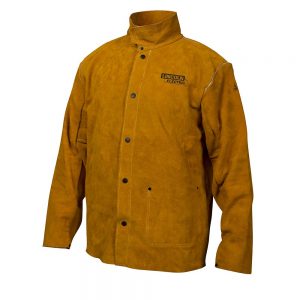 You can buy this Lincoln Electric leather jacket from Amazon.com. This brown color welding jacket is good to protect your arms from welding spatters and heat.
Flame resistant leather has been used to make this Lincoln welding jacket, which is very good for complete protection and durability.
Lincoln Electric KH807L leather welding jacket also features a flip-up collar to protect your neck from heat and spatters.
It also features lined flaps on the front closure to protect you completely from welding spatters.
Leaseek Leather Welding Jacket – Heavy Duty Welding Apron with Sleeve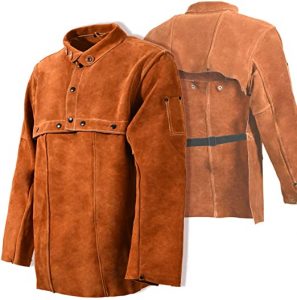 This LeaSeek leather welding jacket should also be included in the best 7 leather welding jackets reviews. Because it is very popular among its users. You can see lots of positive reviews and ratings on Amazon.com.
This leather welding jacket also provides complete protection to protect you from the welding sparks and spatter. If you are looking to buy a flame-resistant welding jacket, this jacket is for you. This is a great heavy-duty welding apron with sleeves.
It provides full coverage to safeguard you from any kind of welding hazards. The heavy duty jacket has open back, which is good to give relaxation in summer or in those tiny areas. And each sleeve features soapstone pocket for storing small tools.
From the quality point of view, this LeaSeek leather welding jacket is not bad. Because it is sewn with US Kevlar thread (heat resistant thread), which can surely add a long-lasting capability.
And, who doesn't want versatility. Yes, this leather welding jacket is not only for welding processes, but also for many other industrial works. Which means you can use this jacket for welding, blacksmith, steel mills, manufacturing, shipyards and many others.
Lincoln Electric Heavy Duty Leather Welding Jacket (High Amperage Welding Jacket)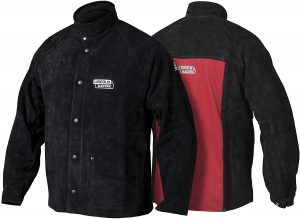 This Lincoln Electric welding jacket is a feature-full jacket that provides utmost protection for the welding activities. It has some special features that are rarely found in other welding jackets. Some good features are: full leather front & sides, breathable FR back, ergonomic leather sleeves, spatter guard button liner, internal storage, leather neck protection and adjustable cuffs.
This heavy duty Lincoln Electric leather jacket has leather front and sides, which are made from split cowhide (weight split). This special feature is capable to excellently protect you from heat, spatters and sparks. And it is designed in a way so that it can last for a long time, even in a high amperage welding environment.
On the other hand, the Lincoln leather welding jacket has ergonomic leather sleeves. These cowhide leather sleeves have an armpit design. This armpit design is good to provide improved movement of your arms.
The heavy duty leather welding jacket has breathable FR back, which is made of ASTM D6413 compliant cotton. And it is designed very well to allow regular airflow giving you cool feeling all the times.
Waylander Leather Welding Jacket (Flame Resistant Cotton, Lightweight Jacket)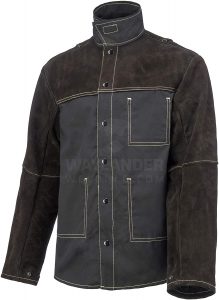 This is another good leather welding jacket for those, who are looking for a lightweight welding jacket. The jacket is also a part of the best 7 leather welding jackets reviews because of the capabilities it carries.
The Waylander jacket is very popular for its lightweight profile, flame resistant cotton and impressive safety & comfort level.
This Waylander leather welding jacket will surely provide full protection from spatter, sparks and heat. And, it keeps you cool all the times.
This welding jacket is specially designed for those who are mainly involved in heavy welding activities. All the welding wears from Waylander, are designed keeping comfort and safety in mind.
It uses split leather and flame resistant cotton. Yes, the shoulders and arms are made of cowhide leather for the best protection. While the body is made of lightweight cotton (flame-free) to keep you cool.
On the other hand, it features flexible sleeves, which are lined to provide trouble-free movement. Of course, it will surely enhance the arm mobility, and will get rid of binding and tightness.
Waylander Welding Jacket Made with Genuine Split Cowhide Leather. And it is designed for maximum skin protection. It features Velcro and snap buttons for the easy and safe closure. It also features a stand-up collar, which works greatly as a welding neck protection. In a nut-shell, this lightweight welding jacket will surely provide full protection to your shoulders, neck and arms.
You can buy this leather welding jacket from Amazon.com where it has multiple sizes such as medium, large, X-large, XX-large and XXXX-large.
Lincoln Electric Split Leather Sleeved Welding Jacket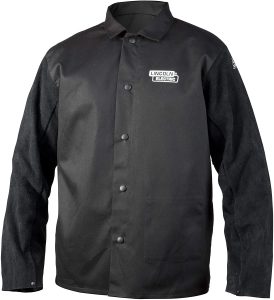 When it comes to the best leather welding jacket, Lincoln Electric jackets are always on top. I have selected this split sleeved welding jacket. Since it is a full sleeved welding jacket so it provides full protect from all the welding hazards such as spatter, sparks and heat.
The top features are:
Flame retardant body
Full leather sleeves
Double stitched seams
Adjustable cuffs
Perfect for various welding processes such as Flux-Core, Plasma Cutting, MIG, TIG, Stick, all welding positions
This Lincoln Electric full sleeve welding jacket provides full industrial protection. Because it features leather sleeves, an adjustable neck, cuffs and a flame-proof body. Also, the leather welding jacket is very durable because it is totally protected from sparks, spatter and heat. And, it is versatile enough because it can be used in all welding positions and processes.
Leather Welding Jackets
Leather welding jacket is among the essential PPE that every welder who cares about safety. Welding is a process that involves the generation of radiations, heat, and also some harmful burns and sparks. Leather welding jacket will be a milestone when you have it as part of your protective types of equipment.
There are many advantages when you consider the leather welding jacket. Firs, it's durable and will not not be affected by the radiations and heat generations from welding. The leather welding jacket is also hard and may be made from the goatskin and hides; hence, you can depend on it as a perfect absorbent material for the radiation! Leather welding jacket will also last for decades, and therefore you won't incur a lot of money buying a new welding jacket now and then!
To summarize, the leather welding jacket will accord protection to parts of your body, including the neck and also the hands for the leather jackets with sleeves! You deserve safety during the welding process! Don't allow the harmful radiations, burns, sarks, and all the hazardous conditions of the welding to torment you! Acquire this cost-effective PPE and be among the professional welders who know what welding is!