There are too many welding helmets on the market so it is really very tough task to choose the best welding helmets from numerous welding helmets available today. Well, to overcome this problem, I do extensive research to find out the best. I have to check ratings, read reviews on various shopping websites, blogs, forums and social websites.
I see there are some top brand names, which are very popular for manufacturing good welding helmets with utmost safety features. These top brands are YesWelder, Antra, TekWare and many others. The welding helmets from the above mentioned brand are not only with impressive safety feature, but also with comfort and ease of use.
The best welding helmets under USD 100, I have included here, are:
YesWelder 3.94 X 3.66 Inches Viewing Screen
Antra Wide Shade Range 4/5-9/9-13 Welding Helmet
YesWelder Wide Shade 4/9-13 Welder Mask
Fibre-Metal 110WH Welding Helmet
TekWare Breathable Grinding Helmet
All the above mentioned welding helmets are solar-power auto-darkening helmets that have good safety and comfort capabilities.
YESWELDER Large Viewing Screen, True Color and Solar Power Auto Darkening Welding Helmet
The welding helmet with wide viewing screen comes from YesWelder, which is a famous brand name to manufacture a wide range of welding helmets and other safety products. The YesWelder welding helmet comes with a true-color profile. It has 4 arc sensors, wide shade for many welding processes like MIG, TIG and Arc.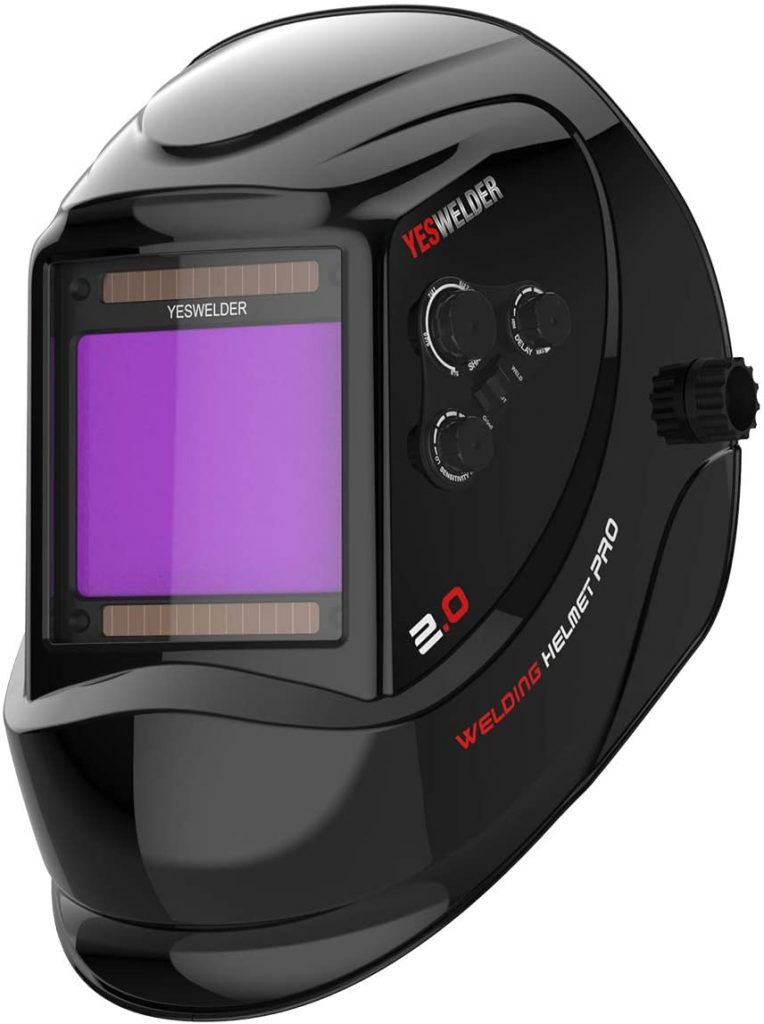 YesWelder welding helmet is affordably priced, and is available to buy from Amazon.com and other shopping websites. This helmet is being recommended here because it has earned good popularity on Amazon.com. Yes, there are too many happy customers, who have posted their positive reviews with impressive ratings.
The solar power auto darkening helmet is very good from clarity point of views. Because the true-color view is 1/1/1/2 optical clarity. It is capable to provide superior comfort with the pivot style headgear.
Since I already mentioned that it has a large viewing size, so it has indeed a large viewing screen, which measures 3.93 x 3.66 inches with 4 premium sensors. This outstanding capability directly contributes to your overall welding performance and comfort.
---
Antra Auto Darkening Welding Helmet AH6-260-0000 with Wide Shade Range
This Antra welding helmet is perfect for many welding applications such as MIG, TIG, MMA and plasma grinding. If you are looking to buy an industrial grade helmet for all your welding safety related requirements, you must go with this Antra brand for all your welding helmet needs. This is not only an industrial grade welding helmet, but also a durable and heavy duty helmet without any doubts. One thing, I would like to clarify here, which you can rarely find a helmet that has all the above mentioned qualities such as durability, heavy duty and industrial grade.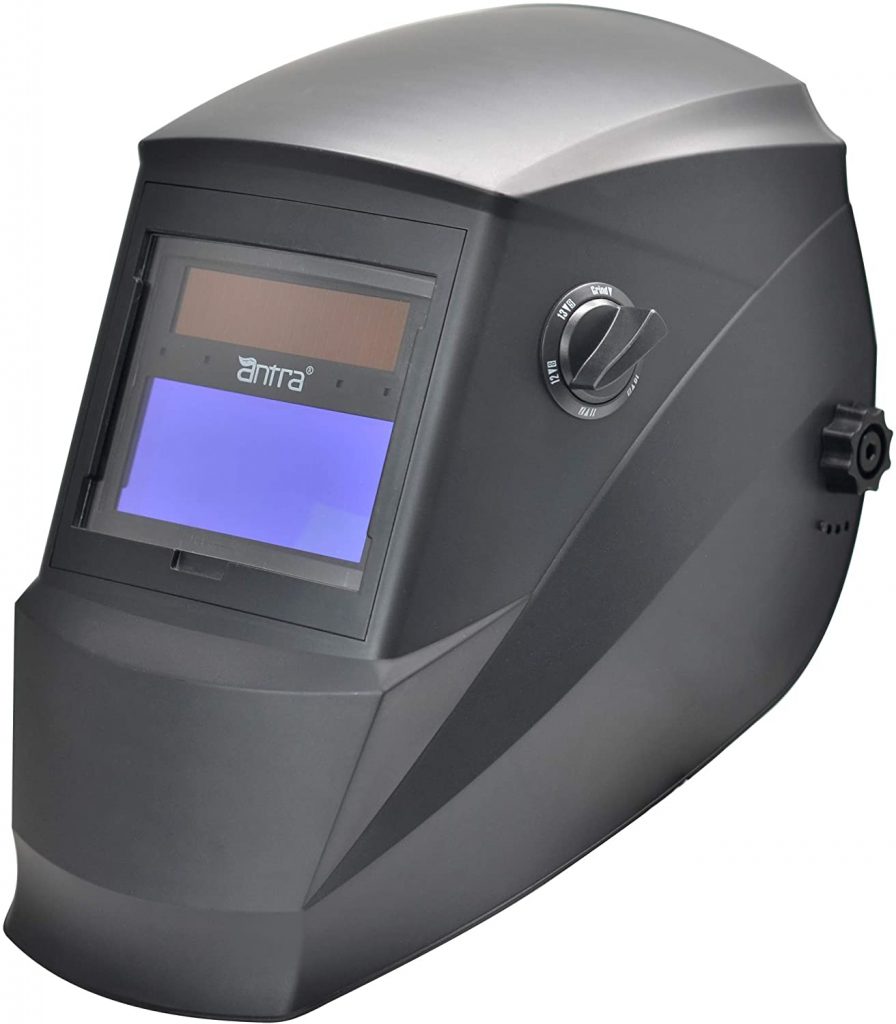 Antra AH6-260 solar power auto darkening welding helmet is perfect for all welders such as DIYers, professional welders, trainee welders or those who perform welding occasionally.
Safety
Well, safety is the top priority when we choose a welding helmet. And, this Antra brand helmet comes with impressive safety capabilities. Yes, the welding helmet is equipped with an auto dimming LCD shutter (double layered), which is perfect for the shade sufficiency. On the other hand, it is perfect for the neck protection, which will surely protect you from harmful radiant and spatters.
Full Neck and Head Protection
We know that we have to go through lots of spatters, debris, particles and dangerous radiant. So keeping these things in mind, the Antra welding helmet has great shield mechanism for the full neck and head protection. Impressively, this AH6-260 welding helmet can also block UV/IR radiant for the utmost safety to the face.
---
YESWELDER Solar Powered Auto Darkening Welding Helmet (True Color)
This auto darkening welding helmet from YesWelder is available in 4 styles with different colors. These 4 styles are LYG-L500A Bright Black, LYG-L500A Lightning, LYG-L500A-B Fire female and EH-1002 Black. The prices of each style are same. You can choose a style based on your color preference. However, these styles don't make any difference in regards to the performance; they are all about the look.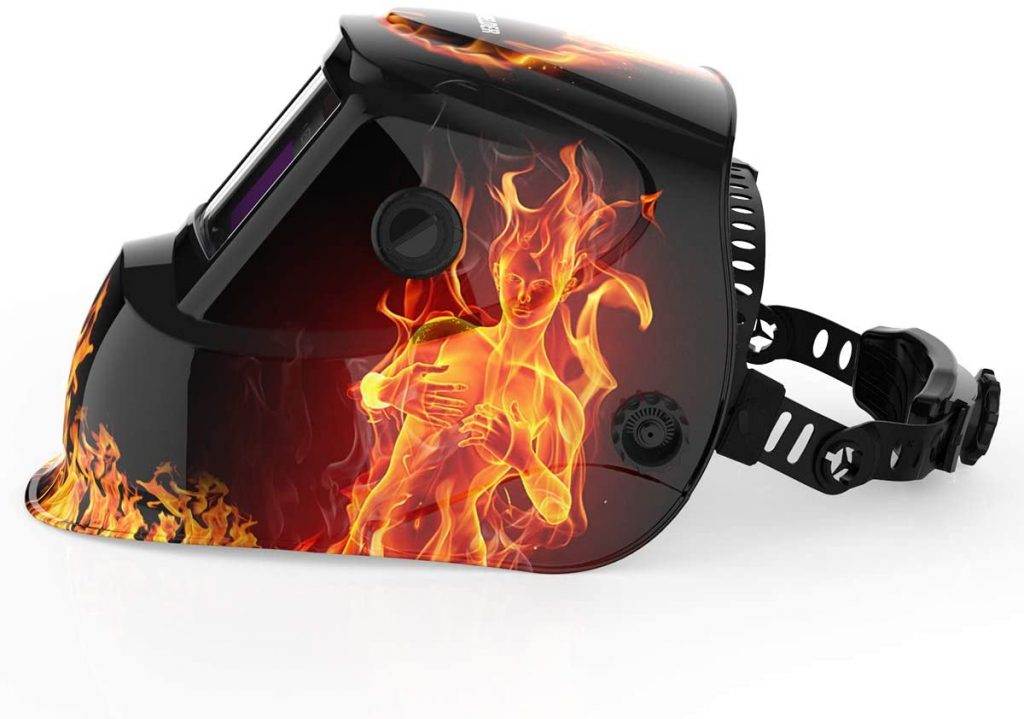 This YesWelder solar-power auto darkening welding helmet is perfect for almost all the welding processes such as Plasma, MMA, MIG and TIG. Further, the helmet comes with large viewing size of 3.93 by 1.67 inches with two premium sensors.
This has 4/9-13 wide shade for the utmost welding comfort. You also get pivot style headgear for all your welding convenience. Of course, you are going to experience good clarity because it offers true color view with 1/1/1/2 optical clarity with magnifying lens.
Good Popularity Based on the Features It Carries
The welding helmet has received impressive reviews and ratings on Amazon.com so it is recommendable here. It carries all the features and qualities that can be found in a powerful welding helmet. It offers impressive color view, has lightweight profile and an advanced headgear. Yes, it has an advanced headgear that features comfort cushion for the extensive adjustability and all the settings for the comfort and fitting.
---
Fibre-Metal Pipeliner Fiberglass Welding Helmet
This Fibre-Metal Pipeliner Fiberglass Welding Helmet has also a place in the best welding helmet under USD 100 reviews. Because this helmet is made in a unique look, which is perfect for welding environment. And it has earned great popularity on various shopping websites.
The Fibre-Metal welding helmet comes with ratchet headgear for the utmost welding comfort. It looks very impressive in the white color. I'm sure you will love the look of this welding helmet.
Pipe Welding Helmet
If you need to perform pipe welding then you need a special welding helmet. This Fibre-Metel helmet is made especially for pipe welders. Because it carries a compact design, which means you have great access to tight areas where other types of welding helmets are not suitable.
The Pipeliner welding helmet is mainly made of SuperGlass material, which is perfect to handle sparks related stuffs.
Great Visibility
This pipe welding helmet comes with a larger viewing glass for the clear view. So this capability is good to view weld puddle, and it can greatly filter out UV and IR wavelengths for the increased eye safety.
---
TEKWARE Welding Helmet, Solar Power Auto Darkening Helmet with Adjustable Shade Range
The TakeWare solar power auto darkening welding helmet also deserves a rank in the best welding helmet reviews. Because the features it carries, have taken it out of the crowd.
This welding helmets from TakeWare are available in various sizes and styles. The prices vary depending on the size or style you choose. Some popular styles are XX-107, Ghost Claw, Luminous Spider, Race Car-White, Moto90, WH009-Black, X3 and X2.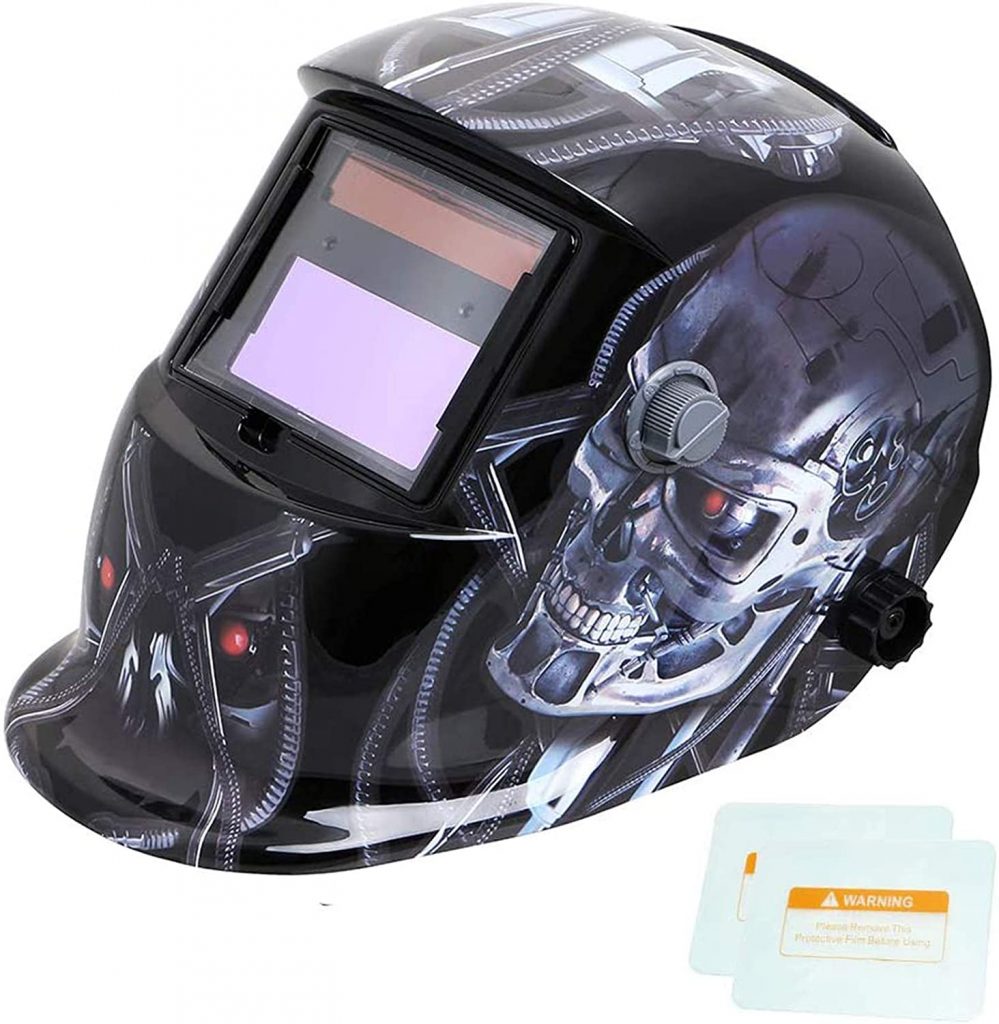 You will be able to explore all the size and style options on the Amazon.com website. And, please choose one as per your requirements.
This welding helmet by TakeWare features 3.66 x 1.69 clear viewing area. It also offers different angles of change, which is good for the utmost welding convenience. You can get extra two lenses with the  purchase of this TakeWare welding helmet. The extra lenses are good for the welding precision.
Auto Darkening Filter
This auto-darkening filter is good to change from light to dark in 1/25000 seconds, which is really impressive speed in regards to switching from light to dark. In case, the electricity is suddenly not available then the welder is kept fully protected from IR or UV radiation.
Battery Powered
This is a battery powered welding helmet. Solar panel technology is used to charge the battery. So it not only provides longer life, but also provides support for energy conservation and environment protection. Amazingly, the helmet is balanced with a headgear, which has good adjustability and fatigue-free profile.
---
Conclusion
All the above mentioned welding helmets are selected based on reviews posted on various websites. Please check each welder carefully and make your own research also. This way, you will be in a better position to take the buying decision. They are the best welding helmets under USD 100 on the market today because of their popularity.