A welding lens is a good way to protect your eyes from the intense welding light and radiations. If you have a welding helmet, your helmet has already lenses. You need a welding lens, in case you want to replace the existing one, or you want to use an extra welding lens.
Every welding helmet has two lenses, inner/shielded lens and front lens. The shielded lens is to protect your eyes from the radiation and light coming from welding arc while the front lens is to protect the inner lens from any dust and debris.
I have selected the best welding lenses, which are trending on the market. These lenses are also supported with the highest count of ratings and positive reviews. Since these reviews are posted by the genuine users, who have used the lens, so I have the option to recommend those lenses that is good to buy.
The best lenses have been selected here, are from established brands such as ArcOne, Lincoln Viking etc. I have to show you the best lenses because it is a matter of protecting eyes. A low quality lens will not be much helpful when it comes to the eyes protection.
ArcOne T240-10 Tradesman Horizontal Auto-Darkening Filter for Welding Helmets, 2 x 4.25 x 0.2 Inches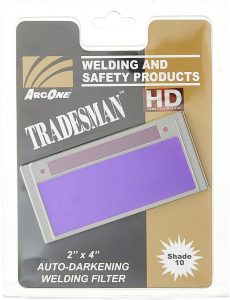 This ArcOne auto-darkening filter can be purchased from Amazon.com. It comes in the size of 2-inch x 4.25-inch x 2-inch. The viewing area is 5.25 inches. You can use this ArcOnce T240-10 tradesman filter with your welding helmet. This is perfect for DIY, general use and home hobbyists.
The ArcOne horizontal filter has features like light state of 3 and single shade of 10.5. It also has two independent sensors to provide clear view in the welding environment.
All the products of ArcOne manufacturer are of good quality so there shouldn't be any doubts to this auto-darkening filter. You also get a 3-year warranty against any manufacturing defects.
Pros
Good for high amperage welding
Impressive clarity in both active and inactive models
Perfect view regardless of light or dark atmosphere
The ArcOne lenses are popular for accuracy, speed, color and clarity.
Peripheral vision is maintained in both models (active and inactive), so the transition of visual attention is very smooth.
Durability —some users say that they have been using this lens for more than 4 years without any troubles
Cons
There are some complaints on Amazon.com regarding the manufacturing defect. Their main problem was that the lens darkens but it has a major flaw. For them, it seems like looking via a glass of pop.
According to some users, the lens is useless for the TIG welding.
Some users complains that the lens doesn't auto-dark itself very quickly compared to other lenses.
As per the complaints, the switch-time is slower than other lenses.
Lincoln Viking Electric 2X4 C-Series Auto-Darkening Welding Lens Shade 10 KP3778-1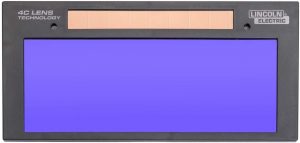 The Lincoln Viking KP3778-1 is also a popular lens so it is being included in the best welding lens reviews. It is good to provide a clear view because of the latest SuperVisibility lens technology it uses. It comes with wider color range, which is good for both dark and light states.
Lincoln Viking welding lens is capable to reduce eyestrains because it comes with the capability to get rid of the color saturation. It always provides smooth performance with less distortion.
When it comes to compatibility, the welding lens comes in a standard cartridge size to work with most pipeline helmets. It can also be used with cheater lens in other helmets. Amazingly, the lens is protected with a two-year warranty, which covers internal defects.
Pros
Many happy users because of the good performance
Good clarity
Cons
Customer service is very slow
Some users complain that it stopped working after few months.
AmeriArc 2×4 Auto-Darkening Welding Lens Variable shade 5-13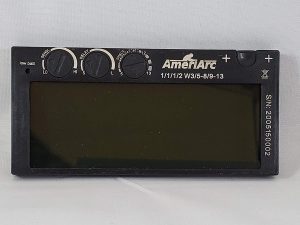 The AmeriArc auto-darkening welding lens is also a good lens. Because of the features and capabilities it carries, the welding lens is being included in the best welding lens reviews. It has received overall good ratings on Amazon and other shopping websites.
It has variable shade 5-13; it comes in the default size of 2X4 inches. The auto-darkening welding lens has an impressive light transition capability. It has impressive blue tint without orange/green tones.
The AmeriArc auto-darkening welding lens is good to reduce eye fatigue. You can use the shade 3 light for the normal viewing, easy setup and inspection works.
You will need two lithium metal batteries to use this lens; the batteries are included with the purchase. It supports a temperature range from 14°F to 13°. The included battery should run for at least 5,000 hours. If the batteries don't last longer, please try finding batteries from a good brand.
Pros
Good clarity
Higher sensitivity
This is the phenomenal quality product, without any doubts
Beautiful color and blows
It is definitely worth the price.
Cons
Some users have fitting related issues.
The manufacturer that makes this product is not very popular but there is no doubt to the quality of product.
2 EACH Shade 10 Glass GOLD 2″ x 4.25″ Welding Hood Lens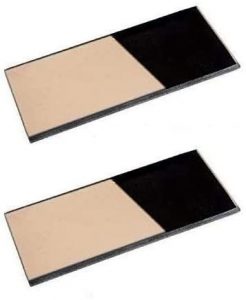 2 EACH Shade 10 Glass GOLD 2″ x 4.25″ Welding Hood Lens has also gotten good popularity so it is an includable product in the best welding lens reviews.
Good thing about this welding hood lens is the good fitting. Yes, it can fit all the welding helmets and goggles that accept 2-inch x 4.25-inch lens size. It features shade 10 glass gold filter plate for the best view experience.
If you have a question related to the arc color it gives. The arch color is neither blue nor green but it gives very clear view. Moreover, this is a pre-darkened lens as it comes with shade 10.
The shade is gold tinted that is good to filter out certain wavelengths of light so that the welder receives a natural view at the time of arc welding.
The 2 each shade 10 2″ x 4.25″ Welding Hood Lens is also good for pipeline hood. As it comes with great fitting compatibility to fit with any 2×4 lens hood.
Pros
Very good deal seeing the low price
It offers very clear vision, not blue color.
Good clarity and durability as per many users posted their reviews.
Users of this shade 10 lens say that it works as advertised, good price and fast/safe shipping.
Cons
Some users complain that their eyes hurt with this lens.
The lens shows a little blue color, and too bright for a shade 10. The other lens has glare related problems.
ArcOne S240-10 Horizontal Single Auto-Darkening Filter for Welding, 2 x 4″, Shade 10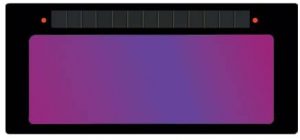 Since this auto-darkening filter for welding comes from ArcOne so there shouldn't be any doubts to the quality it offers. ArcOne S240-10 welding helmet filter is also being included in the top welding lens reviews. This horizontal filter comes in the 2×4 inches standard size with shade 10.
The ArcOne S240 auto-darkening filter comes with some good features, which are rarely available with other ordinary filters. It comes with 2 self-determining sensors so the ArcOne lens is capable to offer clear view. The filter is based on HD clear view technology for the clear view.
The switch-time is very impressive. Yes, it supports a fast speed of 0.5 milliseconds when it comes to switching the modes. In addition, it comes with a great resistance capability to keep the water/dust away. The dark to light state delay is of 0.2 seconds.
The ArcOne filter is perfect for Stick, TIG and MIG welding applications in the range of 50 to 300 amperage. Good thing about this auto-darkening filter is the solar power capability. This means, you don't have to worry about the battery changes. Since this product is from ArcOne so it is supported with a 3-year warranty against any manufacturing defects.
Pros
The lens changes very quickly.
It also works with fiber metal helmets.
The lens doesn't fatigue eyes.
Good for welding arc from 50 to 300 amperage
Cons
Some users complain that it doesn't last for a long time. After few month, it stopped working.
Users complain that it seems over-heated and failed during use.
Difference between fixed and variable shade lenses
If you are going to buy a welding lens, first you have to decide whether you need a fixed or variable-shade lens.
The fixed shade lens only changes at a pre-defined shade, normally with shade 10. On the other hand, variable-shade lens changes based on the materials and welding process being used.
In case, you are going to weld only a single material in a single welding process, then you need a fixed shade lens. Otherwise, you need a variable-shade lens to handle multiple welding materials and processes.
Eye Safety and Clear Vision
Welding lenses are mainly to protect your yes and provide clear view so that you can perform your welding tasks comfortably. A good welding lens aptly protects your eyes from dangerous lights and radiations. Just to protect your eyes, you have to wear a good welding helmet to protect from the infrared radiation, which is one of the main causes of retinal burning. You should be aware of the fact that welding arc is composed of heavy UV radiation, which can be dangerous to your eyes; in some situations, you get permanent eye issues. There are a wide range of welding helmets and lenses on the market, which you should buy to protect your eyes from miss-happenings.