Welding will always be successful when you have the perfect types of welding rods. Welding rod is a piece of wire that is connected to the welding machine. When joining two pieces of metals, you will need a welding rod to make it work. The welding rods will melt, hence becoming part of the weld enabling you to join the two metals by use of electric current.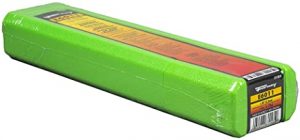 You need to differentiate between types of welding rods. It will also be useful to understand the weakness of every kind of welding rod as well as the strengths. There is just entirely an overwhelming number of the welding rods that you may consider for this purpose.
A good welding rod will contain some coating. Coating materials may vary depending on the choice of the welding rod that you choose. You may get the types of welding rods that have no surface for specific functions, such as welding the manganese Steel.
Welding rods should accord versatility and strength. It should be able to be used for welding stainless steel and any other kind of metal. Among the best qualities that every welding rod must possess are resistance to corrosion and versatility so that it fits all sorts of metals!