Weldy 1600W hot air welding gun is a sturdy and compact welding tool that can be used for numerous welding applications. This professional grade welding torch carries a latest design and delivers impressive performance with an unbeatable cost-performance ratio. This tool can be used for various applications including sealing roofs and joining industrial fabrics and tarpaulins.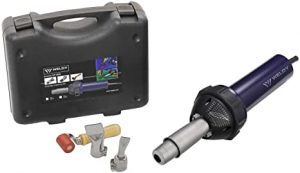 This Weldy air gun kit includes a wide-slot 20-mm nozzle, a wide-slot 40-mm nozzle and 40-mm silicone pressure roller. Please know that the Weldy hot air welding gun uses a Swiss technology.
The air welding gun carries 1-year of warranty. Please make sure that warranty doesn't cover heat elements. It is advised to set the temperature at zero point after use. To cool it down completely, you need to cold air for a few minutes then you can turn the power off.
Additionally, the Weldy professional welding gun is made into the industry standard so that it can provide reliable performance. It has adjustable hot air from 100F-1290F or 40° C to 700° C. It has a long life time and it comes with heating tube protection for more security.
Features
The Weldy energy HT1600 is a durable hot-air hand tool, which can be used for many industrial and home usages. The important features are mentioned below. The tool comes in a sturdy tool case, which makes it more portable and handy to use according to your requirements. This Weldy hot air tool has great heating protection capability for the secure use.
Economical and universal
Handy and reliable
Up to 700°C temperature
Durability
Temperature adjustment option
Based on the popular Swiss technology
A great professional outdoor tool
Perfect for many industrial usages
Air filter is easy to clean.
It comes in a sturdy tool case.
120V or 230V input voltage
Pros
A good tool for the DIY use
This tool comes at a low price compared to others.
For plastic related stuffs, this is a great tool.
It comes with a high temperature silicone roller and nozzle attachments for the greatest convenience.
The tool is sturdy enough, which is good for the longer durability.
It is very good for welding TPO roofing membrane.
According to many users at Amazon.com, it is a quality product.
Good heating capacity
Cons
The tips are not very good but work for the purpose.
According to some reviewers, the instructional manual is not clear to understand.
Conclusion
To conclude, the Weldy 1600W hot-air tool is good for plastic welding and other materials in the same category. It has good features that are responsible to the good performance it delivers. This is a sturdy built tool, which is good for a long-lasting use. This hot-air tool is based on a Swiss technology, which is considered one of the leading technologies on the market. If you buy this product from Amazon.com, you will be able to read reviews there. You will be able to find most of the reviews in the favor of this product.
Hot Air Plastic Welder