AC Works 6-50 Welder Adapter is available in multiple sizes to choose. This is an industrial grade welder adapter which is for 20-amp at 250V. The female connector is also known as NEMA 6-50R, which is a welder connection adapter. These adapters are good for powering your welder from an industrial outlet.
The quality of this product is very good, which you can see from the ratings it has received from the existing customers.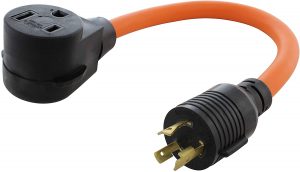 Pros
High quality and heavy duty
It is good for running 220V welder through generator power as well.
The product can also work with a plasma cutter.
This adapter is also good to plug-in an EV charger with 6-50 plug.
Many customers are happy with the performance it offers; they can run 1/8-inch 6013 electrodes very well.
The fitting is very good, neither too tight nor too loose
Sturdy and quality product
Cons
Some users say that the product seems built well, but the product description is misleading related to voltage rating.
Some customers complain that the adapter caused damaged to their unit.
Conclusion
To conclude, AC Works 6-50 Welder Adapter is a quality product with good fitting and compatibility with most of the welders and generators. You can check the above pros list, which is taken from users' reviews posted on Amazon. It has too many advantages and a few disadvantages. Well, these disadvantages are not related to the performance, these are related to miss-information. From my side, this is a buyable product, which also comes at a good price.
Wiring a Conversion Plug from Generator to Welder