Ever heard of the digital multimeter? A digital multimeter is merely a test tool that will measure two electrical values, such as the voltage resistance and also amperes! This is purely a tool that is employed by the electricians in physics to measure these electrical values. In case you need to diagnose this values in electronics, then the digital multimeter will be a tool to do that.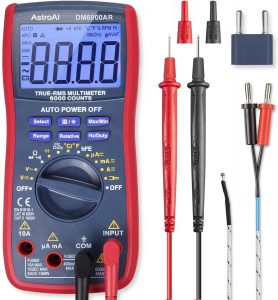 The arrival of the digital multimeters replaced the needle-based analog meters that were widely used in recent days. Digital multimeters have many advantages than traditional appliances! First, you will enjoy maximum accuracy when you use digital multimeters. The reliability is also assured and will increase the impedance. We admire these fantastic inventions that have simplified the task of establishing the electrical values.
The digital multimeter is a 3 in one device that combines single applications such as the voltmeter, ohmmeter, and ammeter in one system. It the specialized features found in this great appliance that makes it possible to measure all the three values in a single device. Though this model may not be a favorite for all the electricians, the electricians can still appreciate the fact that they can reduce the bulk of carrying all the three tools! It will be better to take a single device that delivers many functions that many specialized tools!
The most common digital multimeter has four essential components that define it! They include the display side where the electrician will read out all the measurements. It also has buttons that will allow you to select various functions. The dial pads also will enable the electricians to select primary measurement values such as the volts amperes and ohms. You will also find the input jacks where you will insert the test leads!