Lincoln Electric is not only popular for blameless welding machines, but also popular for many good welding accessories. On this page, I am going to write about a 300A ground clamp that is produced by the popular Lincoln Electric brand.
To find out the hidden truth about Lincoln Electric K910-1, please keep reading Lincoln Electric Ground Clamp Review. I will try to give you accurate information on this product. I have collected information from many sources to write the Lincoln Electric Heavy Duty Ground Clamp review.
Material and Size
The heavy-duty ground clamp is made of copper material. Therefore, you should not question about its solidity or the sturdiness. You can find a combination of many things that are responsible to make this tool solid and comfortable. First, the brand that made this product. We know the high popularity of Lincoln Electric as a welding machine brand. Second, it is made of solid copper material. Third, it is made in a good size that measures 4.38 x 1.38 x 9.75 inches. Lastly, the welder clamp comes with squeeze spring adjustments.
Easy to Use
Lincoln Electric Ground Clamp is easy to use because the strong spring securely holds jaws to the table. Additionally, the easy-to-use tool is very powerful because it has 300 Amp rated capacity 60% duty cycle.
The welding clamp is easy to use because the jaws opening size is 2.5 inches. The users just have to deploy it over the work and it starts working very securely. The direct welding cable attachment to the clamp makes it more comfortable at the workplace.
Highlights of Lincoln Electric Ground Clamp
Lincoln Electric famous manufacturer
1-pound weight
Made in the USA
1.38 x 1.38 x 9.75 inches size
Copper material
300 Amp capacity
2.5 inches jaws opening size
Supported with heavy-duty spring
Avoids nut-bolt tightening
Braided copper shunt
K910-1 model number
Positively rated on Amazon
Highlights of the Lincoln Electric ground clamp are mentioned above. The list of highlights and features may be very helpful to those who want to buy one. Therefore, if you are a future buyer of Lincoln Electric K910-1, please read each point mentioned in the list of highlights.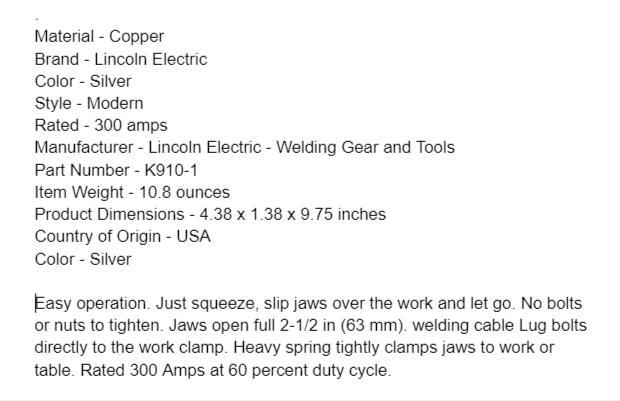 Pros
For many, it is a wonderful welder clamp for the positive grounding.
With the help of this solid clamp, the welding quality improves.
It is very strong as people say that the welding clamp is 100 times bigger and stronger than others.
A heavy-duty clamp
The installation is very easy.
Good value for the money
Cons
Some users had to make a little changes to open up contact lead hole.
Conclusion
In short, the Lincoln Electric K910-1 ground clamp is a heavy-duty product. It has received positive reviews on Amazon so it is highly recommended to buy. It comes at a good price because many reviewers at Amazon say that it is the best value for the money. Most importantly, this product is from Lincoln Electric, which is already a popular brand name for many industrial machines and tools.