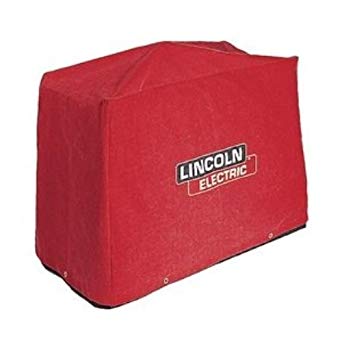 Lincoln Electric K886-2 is a protective welder cover. This product has been made using flame retardant red canvas. It can be used with Lincoln Electric's ranger 225, ranger 250 GXT, ranger 250, ranger 250 LPG and ranger 305 G.
The canvas cover measures 8.6 x 7.4 x 14.6 inches and weighs just 0.16 ounces. However, the shipping weight is approx. 5 pounds. Other important details are: red color, K886-2 model and comes included with a user guide.
Fitting
The Lincoln welder canvas cover is made to fit Lincoln Eagle 10,000 and Lincoln ranger 250 perfectly. It also fits Lincoln Ranger 8 Welder. Roughly, it will fit your Lincoln welder with 40 x 19 inches dimensions.
Since the fitting is main thing here, so please make sure your machine measurement matches with the cover measurement.
Pros
It looks good and fits good with the above mentioned models of Lincoln welders.
The product has received good appreciation for the thickness and fabric quality.
Very sturdy cover
Cons
It is not a water-resistance cove according to the reviews posted by a customer on Amazon.com
If your machine is not in the garage, this welder cover is not for you because it fails to remove the moisture if placed outside.
Some customers say that it is an overpriced cover.
Many say that their welder gets wet, so it is not useful for them.
Conclusion
The Lincoln welder canvas cover is a good quality product to protect your equipment from dusts, touches etc. It nicely fits many Lincoln welder models: the model numbers are mentioned above. However, it is not a waterproof cover so it will fail to protect your machines from any type of liquids.
You can check the pros and cons, which are written above. According the pros and cons, I found, many customers are disappointed with this canvas cover. They also say that it is a little overpriced cover. However, some customers say that it is a strong fabric welder cover, which is good to protect their machines. Now, please take your decisions wisely.
Make a Cover for Your Welder, BBQ Grill, Spare Tire, or Shop Equipment