We know that owning a welder means investing huge money. So, to protect this property, you need a good welder cover. If you are owning a Hobart Champion Elite welder, you need a cover to protect it from dust and external touches.
You can buy Hobart 770619 protective cover for your Hobart champion Elite welder. This welder cover is made of high quality polyester material. This is waterproof and vinyl-coated woven polyester, which is good to protect your welder from water, dust and other outer substances.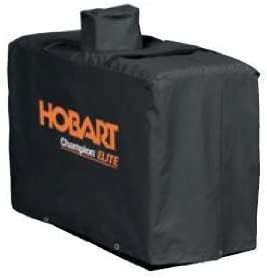 This Hobart welder cover comes with many qualities such as resistance to stains and fading. And it greatly protects the finish of your machine from any outer things.
The Hobart 770619 protective cover is pretty durable and abrasion-resistant. Please make sure that this cover is for Hobart Champion Elite without running gear.
The product weighs 4.96 pounds and measures 15.5 x 11.2 x 3.2 inches. Please don't forget the model number 770619, which can easily be purchased from Amazon at a good price.
This Hobart welder cover has gotten good reviews and ratings on Amazon. However, some customers are not happy with it. Their main problems are related to the fitting. So, please make your own research on the fitting part. This cover is made for 500557 and 500562 Champion Elite units.