TackLife is not as popular as Hobart, Lincoln and other popular welder manufacturers but it makes some performance oriented welders. If you are looking to buy an affordable MIG welder, please read TACKLIFE Electric Welder Review, the welding machine comes with good specifications, required components and features.
This MIG welder comes with a digital display for the greatest welding ease. It offers the amperage ranging from min. 20A to max. 120A. It comes with good electric current output capacity.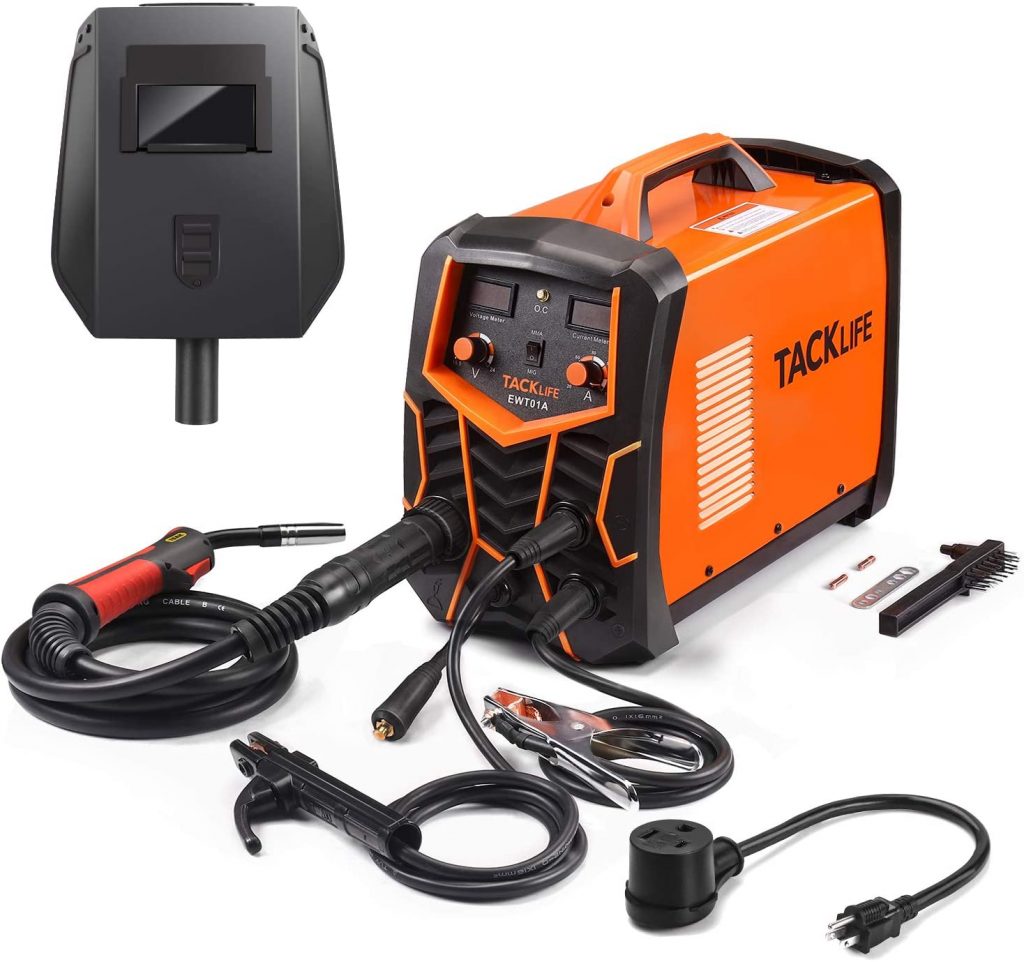 The Tacklife electric welder with IGBT inverter technology also comes with great protection capability. The machine has good capability to protect from overload, overcurrent and over-voltage. Also, the digital display screen is very helpful to provide accurate information about the voltage regulation.
The Tacklife welder is a powerful 120-volt DC unit, which comes with 35% duty cycle. And you get a good convenience to change the welding process from MIG to MMA by just pressing a button. It handles 0.03-inch and 0.04-inch solid core wire for the MIG function.
Highly Capable Tacklife Welder
The Tacklife welding machine is a capable unit with good adjustment capability, efficiency and a compact design. It comes with all the required accessories.
Good Adjustment Capability
Tacklife welder comes with good adjustment capability when it comes to adjusting wire feed speed, welding current and voltage. You will be able to easily adjust welding current and wire feed speed with different thickness.
Efficiency
When it comes to overall efficiency, this Tacklife DC welder does the good job. Because it has inverter gas-shielded welding power source, which makes use of high power component to transfer 60Hz frequency up to 30 to 50Khz. And the efficiency increases by 30%. And the welder has its own system to protect the machine from over-voltage, over-heat and over-current.
Compact Design
This Tacklife welding machine has a compact design and a carrying handle. Such compact profile is good for easy installation and storage. You can easily carry this machine anywhere you want. This is the perfect welding machine for outdoor repairs, road equipment, and maintenance and repair works.
Features
IGBT Inverter Welder
MIG & MMA function
Digital display screen
Smooth speed control (wire feed)
120V input
140 AMP output current
Automatic over-heating protection
Anti-sticking prevention design
Synergic controlled
Included Components
MIG welding gun
MMA welding plier
Welding hand-shield
Chipping hammer
Welding mask
Solid core wire
Ground clamp
User manual
2 years customer support (response within 48 hours by email)
All the above mentioned specifications and features are available with this Tacklife MIG/MMA DC welder. This unit delivers good welding performance and comes with good adjustment capability. You get all the required components with the purchase of this welding machine. Which means you don't have to buy these components separately. I hope TACKLIFE Electric Welder Review was helpful to you.