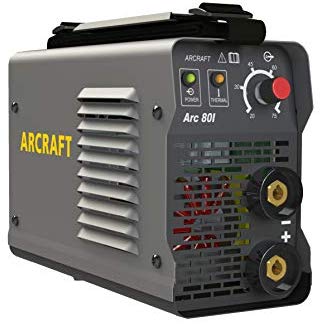 ARCRAFT Hobby80 Mini DC Arc Welder is a single phase welding machine that has various impressive features for easy welding. It has inverter power system that produces smooth DC arc welds with electrodes up to 3/32 inches and materials up to 1/8 inches. It is the best choice for use on mild steel, stainless steel, cast iron and hard surfacing.
This
ARcraft Hobby80 arc welding machine
comes included with 1 x 6.6 feet electrode cable and holder, 1 x 5 feet ground cable and clamp and 1 x shoulder strap for all your welding convenience.
The important specifications are one year limited warranty, 8.16 lbs shipping weight, stick welding process, 20-75 DC welding amperage range, single phase, 120V power, 20% duty cycle at 75A, 20-75A DC range selection, dial amperage adjustments and welding materials include mild steel, stainless steel, cast iron, hard surfacing.
Product Details of ARCraft Hobby80 Portable Arc Welder
The below mention list includes the highlights of this lightweight DC welder. Giving a look at the below mentioned list means saving time for reading the complete details about this product.
The highlights are:
20 to 75 DC welding amperage range
120V input power
20% duty cycle at 75A
5.47 LBs weight
Amperage adjustments dial
1/16, 5/64, 3/32 inches electrode size
Mild steel, cast iron, stainless steel, hard surfacing weld-able metals
The Package Contains
The package contains all the required tools, which you need for welding. Since all the required accessories are included with the purchase, so buying this compact welder means saving money. You don't have to buy these welding accessories separately.
The included components are:
ARCraft DC stick welder – the unit that comes included with required components.
6.5 feet electrode cable with holder
5 feet ground cable and clamp – comes with earth clamp and quick connector
A shoulder strap
Pros
A good welder for beginners – the unit is very simple to understand, which means a novice welder can also use this machine.
It comes with power switch (on/off) on the back, and a knob to control the amperage.
Many happy users share their experience about its good performance. They performed welding at 70 AMPs for longer hours without any problems.
This is a small-size unit, which can easily be plugged into a 120V power outlet.
Many users say that they used 7014 rod very comfortably.
ARCRAFT Hobby80 mini arc welder is good for learning because arc welding is the best welding process to start learning.
For many users who use 3/16 rod, it worked better than expected.
All the above mentioned benefits are available with this small-size welder. If you are new to welding, this ARCRAFT welder is for you. It comes with a convenient power switch, and it can greatly handle 7014 rod. You can find too many happy customers who have posted their reviews on Amazon. Since this welder has too many happy customers who have given a 5-star rating, it is a good welding machine to buy without any doubts.
Cons
The included ground clamp and electrode are of poor quality.
It doesn't come with the welding rods, you may have to buy them separately.
If any product is good/popular, which doesn't mean it has all the advantages. There should be some disadvantages also. These disadvantages may be ignored depending on many factors such as situations, affordability, features and capability.
Conclusion
If you are looking to buy a DC welder, you can buy this ARCraft DC portable welder. It can weld up to 1/8-inch materials. The machine uses an advanced inverter technology, which requires less input power. This lightweight welder is full of good welding features and capabilities. It has an integrated hot start, anti-stick and arc force that enable the machine for easy arc starting. The ARCraft welder also comes with good safety capability because it provides good thermal overload protection and voltage fluctuation protection.
Video – Welding Basics for Beginners